Deadly protests rage at S. African platinum mine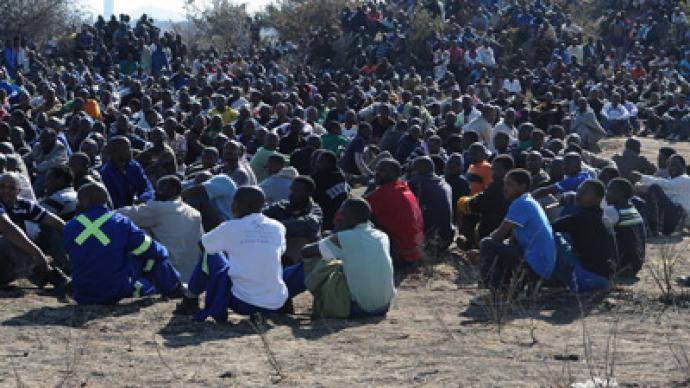 At least ten people were killed in the fifth day of violent clashes at a platinum mine in Rustenburg, S. Africa, as thousands of workers massed to protest. Police opened fire on the demonstrators, claiming they acted in self-defense.
South African police have drastically stepped up their presence at the Marikana platinum mine (100 kilometers from Johannesburg) as thousands of disgruntled workers arrived at the site wielding pipes, clubs and machetes.  
Military helicopters and police are currently patrolling the area in the wake of a mass strike on Friday over wages.
Mine owner Lonmin, the world's third largest producer of platinum, has frozen production as a result of the protests. The "serious and ongoing outbreak of violence" was due to a dispute between rival unions, the London-based company said in a statement.
"Until we know why 3,000 people are under this influence to kill … people, it's hard for us to believe this is a genuine complaint about the rights of workers," Vice President of Lonmin Barnard Mokwena said to AFP.
Authorities discovered the latest victim of the clashes on Tuesday afternoon, around 100 meters from the mine. The middle-aged man was likely bludgeoned to death, police said.
Violence erupted on Saturday as people attempting to work were attacked by protesters. The situation escalated when a crowd of disgruntled workers torched a car on Sunday, killing two security officers. Monday saw seven more killed in clashes, two of whom were police officers.
The initial mass strike was motivated by demands for higher pay and better working conditions. The brutal clashes that subsequently ensued over the weekend are thought to be the result of friction between rival unions the National Union of Mineworkers (NUM) and the splinter group the Association of Mineworkers and Construction Union (AMCU).
The NUM has blamed AMCU for fighting at the mine.
As protests worsened, an international organization that monitors global mining corporations published a damning report on the Marikana mine. The report blasted the poor living conditions of workers, who are often forced to live without electricity or proper sanitary systems.
The report said that many Marikana workers' children fall ill from chronic diseases due to poor hygiene, and that prostitution and alcoholism are rampant in the miner communities.
Due to the break in platinum production, the global price of the precious metal has been risen two percent. Lonmin produces some 12 percent of the world's platinum.
You can share this story on social media: