Wiktory? Key sponsors abandon SOPA/PIPA after web blackout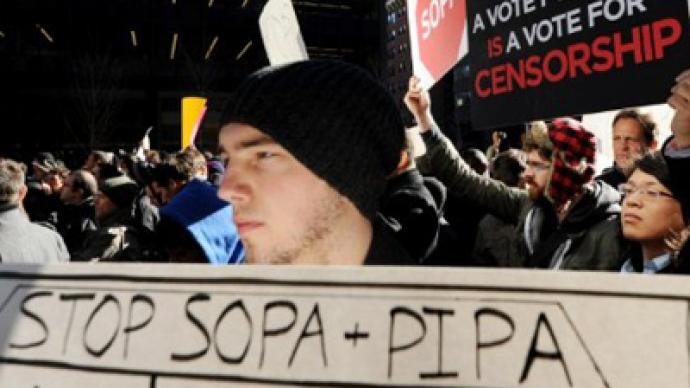 Opposition to the controversial Stop Online Piracy and Protect Internet Privacy Acts has caused a major stir among Republicans and Democrats alike, with 18 Senators – including seven co-sponsors – turning against the legislation.
As many as 18 American Senators have dropped their support for the proposed Protect Intellectual Property Act (PIPA). This puts the total number of Senators who publicly oppose the bill at 25, though another 13 Senators are leaning toward opposition; the number of Senators openly supporting the bill dropped to 33. Of the 25 Senators now opposing the legislation, 17 are Republicans and eight are Democrats. The change of positions comes follows a widespread protest movement to oppose the SOPA/PIPA legislation involving internet giants Google, Yahoo and Facebook.The withdrawal of support came in the wake of Wednesday's Internet blackout.The politicians who so recently withdrew their support for the bills include Republicans Marco Rubio, Kelly Ayotte, Roy Blunt, John Boozman and Orrin Hatch, and Democrat Ben Cardin. Hatch, of Utah, announced on his Facebook page that he acknowledges that intellectual property theft is a "real and growing problem" that must be "combated," but added that he cannot support  PIPA as is. "Rushing something with such potential for far-reaching consequences is something I cannot support and that is why I will not only vote against moving the bill forward next week but also remove my cosponsorship of the bill," Hatch said. Hatch added that legislators should allow some time for the both sides of the conflict to come together and "find a reasonable solution." Senator Marco Rubio of Florida also posted a message on his Facebook page, saying he was in favor of combating piracy but believed doing so must not stifle the innovation made possible by a dynamic and open Internet. He urged Senate Majority Leader Harry Reid to abandon his plan to rush the bill to the floor, and instead called on other Senators to "take more time to address the concerns raised by all sides, and come up with new legislation that addresses Internet piracy while protecting free and open access to the Internet."Kelly Ayotte of New Hampshire posted her message on Twitter: "I'm pulling my support bc your concerns deserve consideration before Congress moves fwd." Missouri Senator Roy Blunt, also addressing his change in stance by Twitter, said "We can find a solution that will protect lawful content. But this bill is flawed & that's why I'm withdrawing my support."Other Senators who have long opposed PIPA also spoke out on the measures they would take to prevent it from being passed by the Senate. Senator Rand Paul of Kentucky expressed his opposition to the "unprecedented and unconstitutional power" SOPA and PIPA give to the Federal government to censor the Internet and pledged "to oppose, filibuster and do everything in my power to stop government censorship of the Internet."Paul and his fellow Senators Jerry Moran, a Kansas Republican and Maria Cantwell, a Democrat representing the State of Washington, also issued a joint statement in which they said the bill could unintentionally undermine national security and stifle innovation, job creation and entrepreneurship. What comes as a surprise is the fact that 16 of the 18 Senators that changed their positions on the bill are Republicans. Only two – Ben Cardin and Jeff Merkley – are Democrats. It is not clear why the defections have such a partisan slant, as copyright is generally not seen as a partisan issue and PIPA had been co-sponsored by 16 Republicans and 23 Democrats before Wednesday's desertion.  SOPA and PIPA are largely viewed as a means to crack down on out-of-the-US websites involved in violating intellectual property legislation. According to supporters, SOPA and PIPA will help protect jobs in the film and music industries. In turn, those opposed to the legislation – including Facebook founder and CEO Mark Zuckerberg – believe that it will have irreversible and far-reaching consequences, including for the economy and innovation.   "The Internet is the most powerful tool we have for creating a more open and connected world," Zuckerberg said on his Facebook page. "We can't let poorly thought out laws get in the way of the Internet's development. Facebook opposes SOPA and PIPA, and we will continue to oppose any laws that will hurt the Internet." In addition to Facebook, a number of popular Internet resources made their protest against the bills known on Wednesday, and many joined with words and actions.Wikipedia,  the Internet's largest reference, went black for 24 hours to protest the legislation, while Google blacked out its logo in the US, directing people to a page where they could sign a petition against the bills. In its initiative, Google reportedly gathered about 4.5 million signatures.
You can share this story on social media: