Somali pirates free Ukrainian ship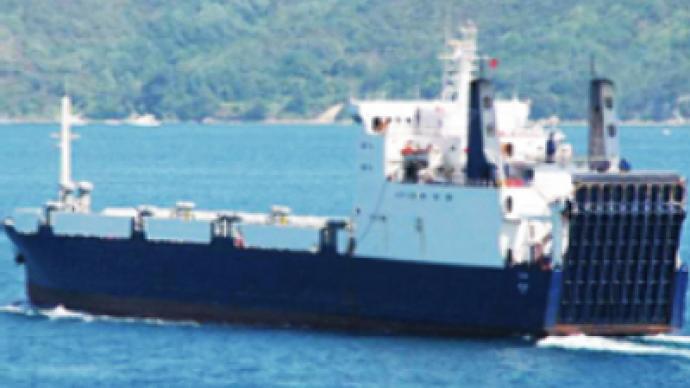 Somali pirates have released a Ukrainian cargo vessel held captive for more than two months. The twenty-man crew of the Faina was freed following talks between the pirates and Ukraine's foreign ministry.
The Ukrainian cargo ship Faina, made up of a mixed crew of Ukrainians, Russians, and a Latvian, was taken hostage by pirates off the Somali coast on September 25.
Since then the relatives of the crew had been living on tenterhooks.
"My husband works as a mechanic on the Faina. He's been to Africa but nothing like this has ever happened. I know they were supposed to have protection with them, but there was nothing of the sort. The people were just left alone," said Tatiana Filipenko, relative of one of Faina's crew members.
The pirates threatened to blow up the vessel and demanded up to $US 35 million for its safe return, although they eventually reduced the figure to $US 3 million.

The crew experienced a serious shortage of food and water and the loss of their Russian captain, Vladimir Kolobkov, who died of a heart attack a few days after the siege had began.
The situation around the freighter looked even more explosive considering the kind of cargo it was carrying. The Faina held more than 33 T-72 tanks, air defence systems and ammunition, which it was transporting to Kenya.
Several American war ships surrounded the vessel and the Russian frigate The Fearless was sent to the area to prevent the bandits unloading the deadly cargo.
This siege also triggered political scandal as allegations emerged that the weapons were illegally intended for Darfur, which is currently under a UN arms embargo.
Both Ukraine and Kenya deny breaking the law, but a parliamentary investigation has been launched amid wider suspicions of Kiev's arms deals lacking transparency.

"I have to admit that this is a case of absolute negligence because such an important cargo should always be properly secured, and unfortunately Ukraine is unable to send special forces to the area," Ukrainian MP Valery Konovalyuk said.

The waters off the coast of Somalia are notorious for armed bandits hijacking international ships.
This week the UN Security Council extended for another year its authorisation for countries to enter Somalia's territorial waters and use "all necessary means" to stop acts of piracy and armed robbery at sea.
Diplomats say such sweeping measures are necessary to stop the piracy that seems to be more audacious and more technologically sophisticated with each passing week.
You can share this story on social media: