Not guilty: Socrates narrowly acquitted 2,400 years after death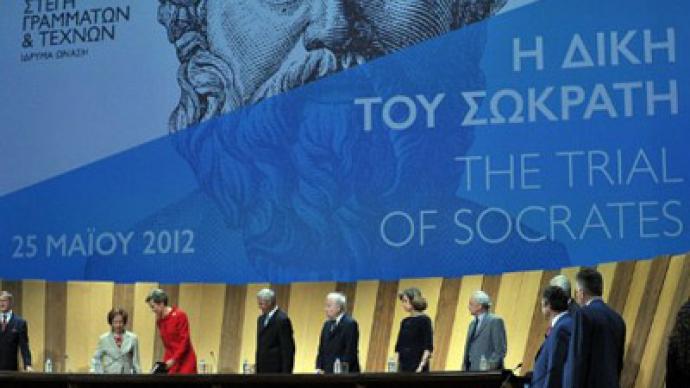 Crisis-enduring Greece received a bit of hope for belated justice. A re-trial of Ancient Greek philosopher Socrates in Athens, the very city that sentenced him to death in 399 BC, ended with his acquittal.
A panel of ten judges from Britain, France, Germany, Greece, Switzerland and the United States was hearing the case at the event at the Onassis Foundation. Five of them cast their votes for "guilty" verdict while five other said "not guilty".Unlike the historical proceedings, the judges did not choose the form of punishment, since organizers felt it would unnecessarily complicate the process.In the original trial Socrates was charged with failing to acknowledge gods worshiped by the city and a separate charge of corrupting the young. His teachings of skepticism challenged conventional moral, political and religious notions, which won him powerful enemies.Ancient Athens accused him of conspiring with their enemy, the Spartans, to inspire a violent uprising of the Thirty Tyrants, a group of oligarchs, the leader of which was a pupil of Socrates.The philosopher spoke for himself in the trial before more than 500 jurors. The result was his sentencing to either death by drinking a hemlock-based liquid or permanent exile from the polis. Socrates opted for the former punishment.The most comprehensive account of the trial is that written by his friend and student Plato.Socrates' sentencing to death has modern-day implications, as the issues of freedom of speech are as resonant today, as they were 2,400 years ago, say the organizers of the mock re-trial."The issues that we will be debating here are global issues and are very pertinent," Anthony Papadimitriou, a lawyer and president of the foundation who spoke for the prosecution, said ahead of the trial."For instance, they are closely related to the Arab Spring," he added as cited by AFP.The reenactment comes as Greece is heading to a new emergency parliamentary election on June 17 after the previous parliament failed to form a government.Radical left-wing party Syriza is leading the opinion polls. Its leader has threatened to pull out of an international bailout agreement, under which the debt-ridden country received credits from the EU and the IMF in exchange for severe austerity measures."Greece might be going through a difficult period, but we believe that we shall overcome as we have overcome the Romans, the Turks, the Germans and hemlock," Papadimitriou joked."I also hope that we shall overcome the wisdom of Greek voters."At an earlier enactment of the trial in New York last year, Socrates was likewise acquitted.
You can share this story on social media: