Way to Obama's heart: Russian cook turns long pen-pal of US president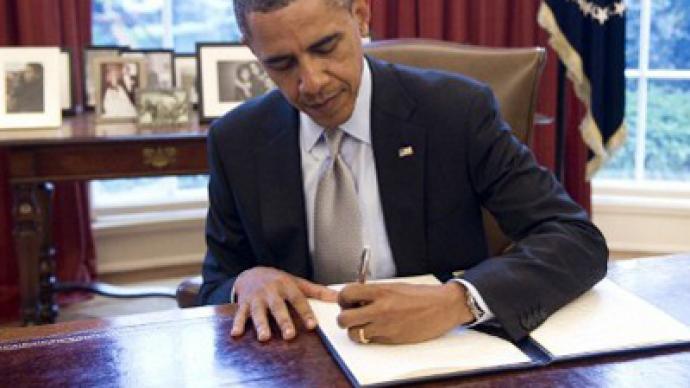 The way to an American man's heart indeed lies through his stomach. While Russian and US diplomats struggle to forge closer ties, a Russian cook has established a close diplomatic connection with the US President himself!
The curious story of this acquaintance dates back to 2005, when Obama was an Illinois senator. The future president visited a military base in Russia's Saratov Region as part of an inspection of the destruction of long- and intermediate-range missiles. After examining the base and signing all the necessary documents, the US delegation drove back to the city, right through the fields where agricultural vehicles were working. Eager to learn more about Russian machinery, Obama stopped the car and came closer. The workers invited him to have a meal with the team – at the field kitchen where Maria Petrova, 36, was working.
Among the dishes served was legendary Russian borshch that Obama had heard much of but never tried. So impressed was the future president with Maria's cookery that he wanted to thank the woman personally. "He even wanted a refill and then asked me to write down the recipe," Maria told TemaSaratov online newspaper. "He also told me that farmers in the US work alone rather than in a team. When I pointed out that working together is more fun, he suggested I become his agriculture adviser. I laughed saying that he should rather employ me as his cook. I didn't know who he was. I remember it was very exciting for me to talk to foreigners – I had never met a single one before."Despite the language barrier, the conversation was quite enjoyable for both sides. So no wonder that once Maria learned that the nice young man had attained such a high position in the US, she decided to wish the new president good luck."I didn't really believe he would receive my letter," Maria said. "I sent it out and forgot."To the woman's utter surprise, President Obama replied – sending his greeting on Maria's birthday. "I was shocked," Maria said. "How did he know about my birthday? He knew neither my age nor my birth date."Now the friends regularly exchange letters, greeting each other on birthdays and big holidays like New Year, Christmas, and Easter. Maria is keeping all Obama's letters close to heart."I sent him once my poem about Russia and the US. He replied that he also used to write verse when he was young. Unfortunately, he didn't send to me any of his own poems. Instead, he enclosed some by prominent American poets," Maria recalled. Now Maria is dreaming of going to the US and meeting her high-ranking pen friend face to face once more."I believe I will see Barack one day," she said. "I'm now saving up, and once I have the money, I will go straight to the US."
Maria is not the only Russian boasting acquaintance with a big politician from abroad. A tram driver from Russia has been a long-time pen friend of Queen Elizabeth II. Since 1997, he has received over 20 letters from the British Monarch. Despite the humdrum nature of day-to-day life, he still makes sure he sends off a letter for all holidays and birthdays.