Siberian workers ask Obama to pay their salaries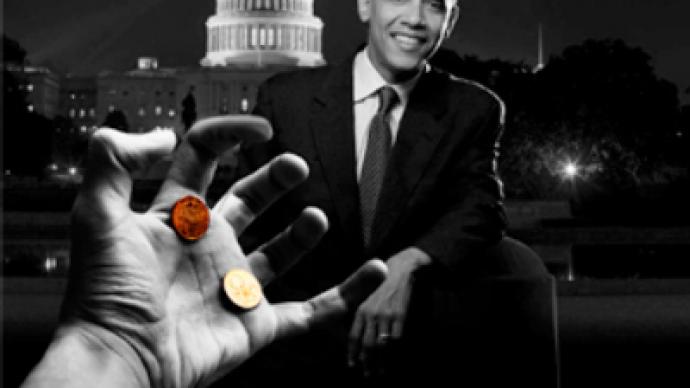 Workers of a construction company in Siberia, desperate to receive the money they've earned, have decided to ask President Obama for cash. They say it's the US that started the crisis, so it's the US that should pay up.
This letter was delivered to local mass media – we publish it unedited and unabridged.
An Open Letter to the President of the United States of America from the workers of the Open Joint Stock Company "Promstroy" from the city of Kurgan.

Dear Barack Husseinovich Obama!

We'd like to address you due to a difficult situation at our place of employment. The point is that for many months our employer hasn't paid wages to us and has not talked to us at all. Because of this he has violated our constitutional right to labor and fair payment.

Recently, there have been ever-intensifying attempts to oust us from the company, which, through our hard work, we helped to prosper.

In answer to our reasonable question about the reasons for this unlawful behavior, the Employer (in the person of the Chief Engineer and Production Manager) said that the collapse of the U.S. housing loan market was to blame for everything. Thus, we simply and clearly got the address of the person to whom we should speak about our misfortune. Of course we feel sorry about the loan system, but you should also put yourself in our shoes.

Therefore, we decided to offer you a list of options to solve the current situation:
1. Place the full blame upon the American administration and yourself as President of the USA. In doing this, you will take upon yourself the obligations for paying out delayed wages to the employees of JSC "Promstroy".
2. Not place the blame upon the USA in the current situation and thereby consider the Employer and his representatives of JSC "Promstroy" as malicious slanderers and detesters of United States policy.

3. Due to the fact that many more managers of JSC "Promstroy are rushing to get a Schengen visa nowadays, we would like to ask you, Barack Husseinovich, to discuss this issue with your G8 friends from the countries of Western Europe. Perhaps, they (your European friends by the names Angela and Nicolas, and we think that Silvio will also not refuse your request) would be able to arrange an interview with the employer and his representatives on the above-mentioned subject right at the border crossing points.
Respectfully,
Best regards,
The workers of JSC "Promstroy", City of Kurgan
You can share this story on social media: