Sochi medal wrap-up, Day 13: Adelina Sotnikova wins Russia's first-ever women's figure skating gold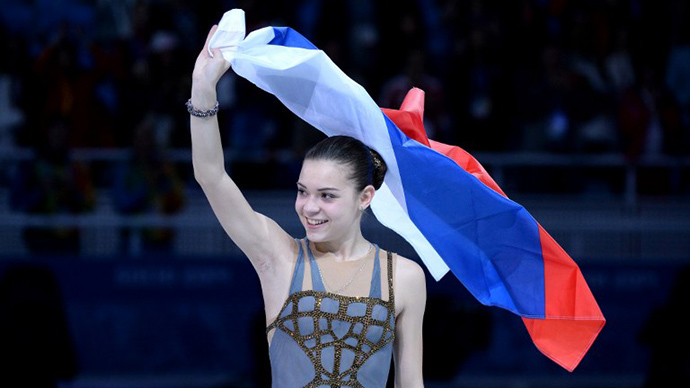 Day 13 of the Sochi Olympics brought some unexpected turns to the medals table.
Among the moments that captivated our hearts was the gold figure skating performance of young Russian athlete Adelina Sotnikova, who beat Vancouver Olympic champion Yuna Kim.
Thursday's ice was favorable to some figure skaters, yet cruel to others.
Fifteen-year-old Russian athlete Yulia Lipnitskaya fell while performing during the free program, failing to repeat her flawless skating at the team event.
Japan's Mao Asada, however, delivered a great performance in the free program, bringing her an impressive amount of points. But due to her fall in the short program, the Vancouver 2010 silver champion finished in sixth place.
Vancouver 2010 champion Yuna Kim of South Korea failed to achieve the top score, finishing in second place. Italy's Carolina Kostner placed third.
This time around, the podium certainly belonged to 17-year-old Russian prodigy Adelina Sotnikova, who won a surprise gold medal.
Sotnikova placed second in the short program, trailing slightly behind Kim. However, her stunning performance at the free program impressed the judges. Sotnikova came out on top, scoring nearly five points more than Kim and winning Russia's first ever Olympic gold in women's free skating.
Sotnikova's win is Russia's 23rd medal at the Sochi Olympics, which means the country is currently tied with its previous record that it achieved at the 1994 Winter Games in Norway.
The medals table is now topped by Norway, which has 10 golds. The US and Germany are occupying the second and third spots respectively. Each country has eight gold medals.
Marie Martinod of France was initially leading during the event, but the Olympic gold went to Maddie Bowman of the US, who delivered a striking performance that scored her 89.00 points.
Norway now has 10 gold, four silver, and seven bronze medals, bringing its overall total to 21 medals.

The Nordic country won the first gold of Day 13 in the team 4x5 km Nordic combined event, also known as the Gundersen race. The team finished with a time of 46:48.5 minutes and scored 462.8 points.
France's athletes dominated the ski cross event. Jean Frederic Chapuis won gold, while his teammates – Arnaud Bovolenta and Jonathan Midol – took silver and bronze respectively.
You can share this story on social media: