Touching tribute to freestyle star Sarah Burke in Sochi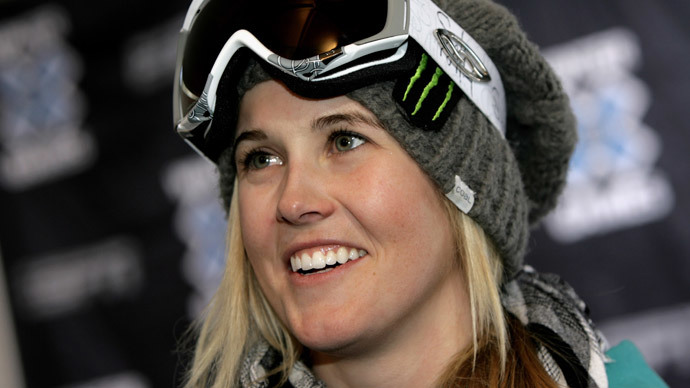 Legendary Canadian freestyle skier Sarah Burke was remembered in Sochi as her coach spread her ashes at the halfpipe, on top of a mountain, and near the Olympic rings.
Burke was a pioneer of the sport, and fought for halfpipe and slope style events to be introduced at the Winter Games.
It was Burke's dream to be part of the Sochi Winter Olympics and many expected the young athlete to excel at the 2014 Games. But her tragic death following a training accident in Utah in January 2012 shattered that dream.
Freestyle coach Trennon Paynter said he spread Burke's ashes on the halfpipe after training sessions and before the competition on Saturday.
"That was a little bit of a stealth mission," Paynter said, as quoted by The Canadian Press. "I feel pretty good about knowing Sarah was all over these Olympics in our hearts and quite literally too."
Paynter also went to the highest peak on the mountain above Rhosa Khutor Extreme Park to distribute some of Burke's ashes. The urn was also included in a freestyle team picture at the Olympic rings.
Before the women's freestyle halfpipe event began in Sochi, volunteers skied down the course in a heart-shaped formation in memory of Burke.
Beautiful. Olympic volunteers skied in a heart down the halfpipe b4 the finals ystrdy in tribute to Sarah Burke. pic.twitter.com/fuyRw1qyoI

— 104.1 The Dock (@1041TheDock) February 21, 2014
Athletes participating in the Winter Games in the halfpipe and slope style events said they commemorated Burke and remembered everything she has done for the freestyle skiing sport.
Olympians wanted to wear stickers in memory of Burke, but were not permitted to go through with the plan, due to International Olympic Committee rules.
Burke's coach is also spreading the athlete's ashes this season at various locations of the Freestyle World Cup.
Burke was a four-time X Games champion. She competed against men until the women's event was introduced.
You can share this story on social media: