War veteran to lead Russian sledge hockey team to its first Paralympics
Russia's sledge hockey team will be taking part in the 2014 Winter Paralympics for the first time in history. Its captain, a former war veteran who built the team from scratch, says one can set goals and achieve them "even with an injury".
Vadim Selyukin lost both his legs while serving in the military in Chechnya. He was injured in 2002, but says he remembers everything like it was yesterday. "I was completely lost, I didn't know what to do next. Before the age of 25, I used to have a completely different life," 36-year-old Selyukin told RT.

The Captain of the 2014 Russian sledge-hockey Paralympic team says he turned to sports to realize his potential. First he tried swimming, then athletics. His friends from the army supported him. In 2004 Selyukin launched a sport club for disabled sportsmen. His dedication to sledge hockey surfaced five years later. At that time, the sport was barely known in Russia. There were no teams, no coaches, no experience whatsoever. But a group of enthusiasts has managed to get things moving.

"It was strange at the beginning, there were very few of us at the first training session," Vadim recalled. "It's still hockey, just with two sticks, one in each hand... We were just staring at one another, not knowing what to do. We tried the hockey sledge, but couldn't handle it at first. We were falling down constantly. But now we're skilled at it."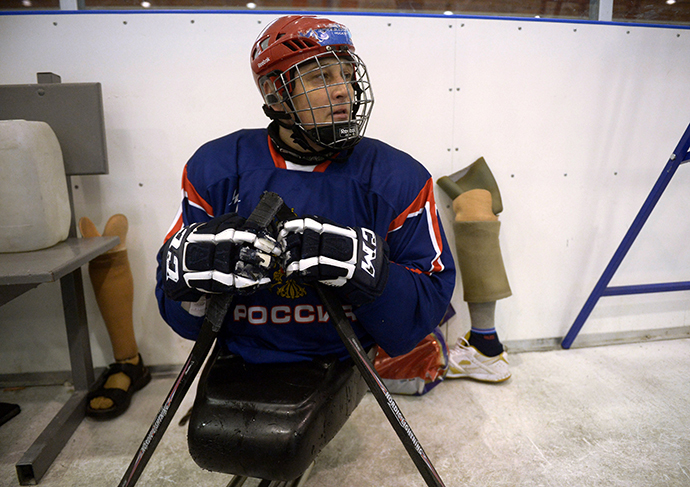 Since 2009, when the seventeen athletes in the team were told they were going to take part in the Sochi Winter Paralympics, it has become their driving force and biggest challenge.

"These guys have managed to prove to themselves, their relatives and the entire society that they are not people with disabilities, but people with unlimited abilities," Russia's Paralympic coach Sergey Samoilov stressed.

The Russian team has quickly become a role model for the newcomers. Sledge hockey has been a part of the Paralympics since 1994, but this is going to be the first year a Russian team will finally take part in the competition. Fans say the rivalry is likely to be tougher than before.

"Back in Canada, at the world's sledge hockey challenge this year, we played against the teams of Canada and the US. They are very skilled athletes. We still cannot outdo their experience, especially in the little things. But we're trying very hard," Selyukin noted.
For most of the sledge hockey players on the Russian team the road to Sochi hasn't been paved with roses. It's taken a stupendous amount of hard work, sacrifice and dedication.

"After this experience I believe that people who've survived a car crash or a plane crash will look at us and realize that even with an injury like that you can live on, you can set your own goals and achieve them," Selyukin said.

The captain and his mates from the hockey squad come to their training base every day - they burn the midnight oil to keep fit, and to fire their will to win.

"Every player thinks only about victory, how to grab it and never let it go."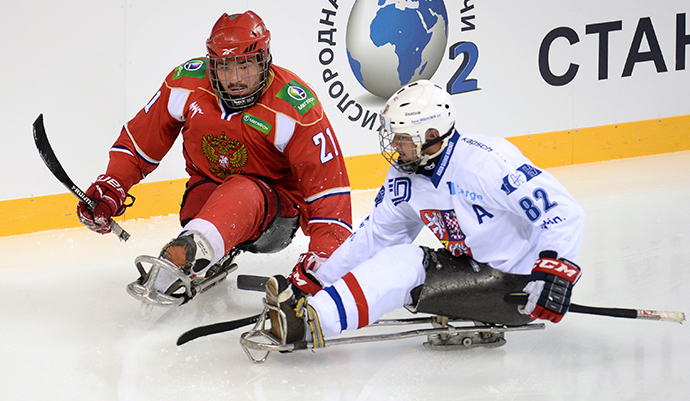 Selyukin calls his team his "second family," which doesn't mean his love life hasn't proved a success. Vadim met his future wife when he was serving in the army. "There was a spark from the very beginning, and then it grew as we dated. You could say it was love at first sight," the sportsman told RT, smiling.

When Vadim lost both his legs, his fiancée Irina moved into his hospital room to help with his care. The couple got married, and their love became stronger when their baby was born.

Irina says her husband does everything for her and their six-year-old daughter, Katya, and even more than that. "He helps people to realize that life isn't over, that everything is possible."

For the captain of the Russian sledge-hockey Paralympic team, his two biggest passions in life go hand in hand.

"I really like to enjoy all the time I get to spend at home, because when I'm away on training sessions with the team I miss my family very much. It's the same as in the game when you sit on the bench for a long time just watching the others play, and then you get this little time on ice, you want to make most of it, you're 100 percent committed."

Luckily, everyone in the family shares his commitment!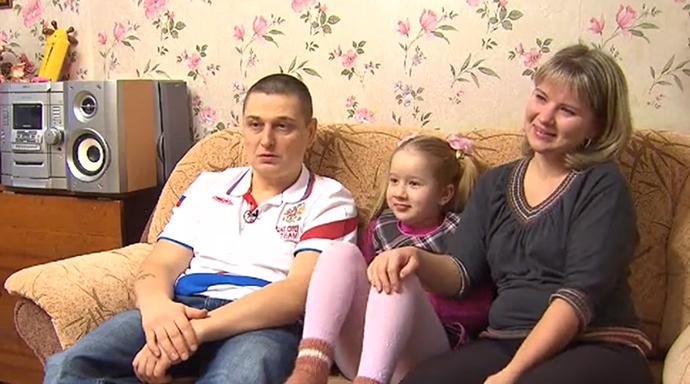 You can share this story on social media: