Sochi medal wrap-up, Day 2: 15yo figure skating prodigy secures Russia's first gold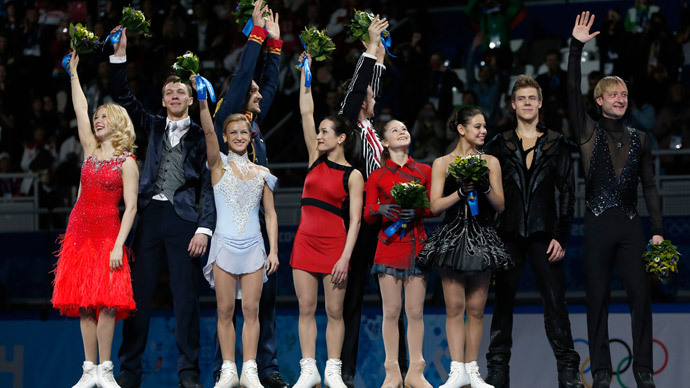 The second day of the Sochi Olympics was marked by the host country winning its first gold medal in the new team figure skating event. Norway remained in the lead in the overall medal count, followed by the Netherlands, the US, Canada, and Russia.
Norway ended the day with a total of seven medals, with the Netherlands, the US, Canada, and Russia following with four medals each.
Russia's spectacular win was secured after dominant performances by 15-year-old Yulia Lipnitskaya and Evgeny Plushenko, among others, who won five out of eight events as a team. Canada received silver, and the US won bronze.
Lipnitskaya, who won the free skate with a score of 141.51, received a standing ovation. Her win pushed Russia 11 points ahead of its closest rival – Canada. The 15-year-old became the world's youngest figure skater to ever win a gold medal.
The teen is the youngest Russian athlete to win a medal in Winter Olympics history.
The gold in the women's 7.5km biathlon sprint was won by Slovakia's Anastasiya Kuzmina. Kuzmina's performance was virtually flawless; she finished with zero penalties in the shooting portion of the competition and crossed the finish line with a time of 21:06.8.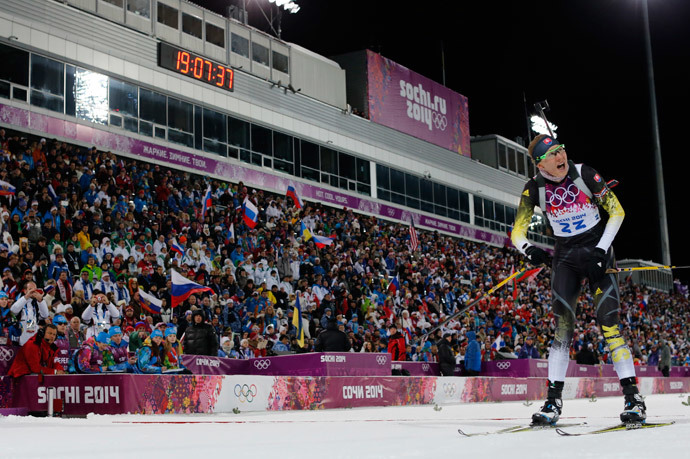 Russia's Olga Vilukhina brought her country its second medal of the day, snatching silver with a time of 21:26.7. Meanwhile, Ukraine's Vita Semerenko placed third with a time of 21:28.5.
Russia beat Germany 4-1 in the preliminary round of women's hockey. German forward Franziska Busch drew first blood 6:48 into the second period, but Russia stormed back in the third, scoring four unanswered goals to close out the game.
Forwards Iya Gavrilova and Yekaterina Smolentseva each scored one, with Olga Sosina scoring twice.
The Netherlands' Irene Wust won gold in the women's 3000-meter speed skating competition, finishing with a time of 4:00.34.
The Czech Republic's Martina Sablikova won silver, finishing 1.61 seconds behind Wust with a time of 4:01:95. Russia's Olga Graf earned the country its first medal, bagging the bronze with a time of 4:03.4.
Austria grabbed its second medal in Sochi, this time a gold one. Matthias Mayer was the fastest man in the downhill race on Sunday, covering the challenging Rosa Khutor course with a time of 2:06.23. Mayer's victory is good news for his father, Helmut Mayer, who won Olympic silver in 1988.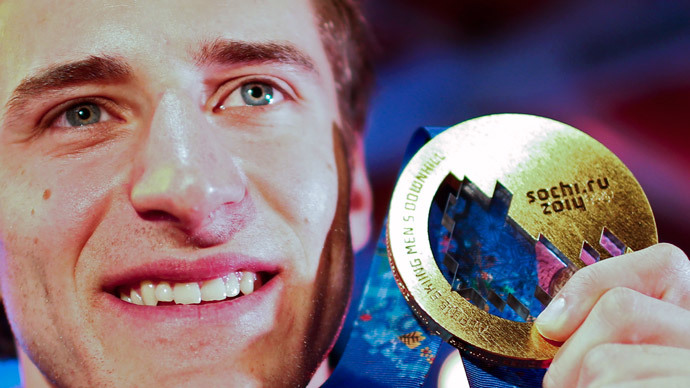 Finishing just 0.06 seconds behind the Austrian was Italy's Christof Innerhofer, who won his first Olympic medal in Sochi. This was also Italy's first medal at the Games.
Kjetil Jansrud of Norway won the bronze medal with a time of 2:06.33, maintaining his country's lead in the medal table.
You can share this story on social media: