​Two killed in avalanche at Sochi ski resort
Published time: 23 Mar, 2014 18:36
Edited time: 23 Mar, 2014 20:01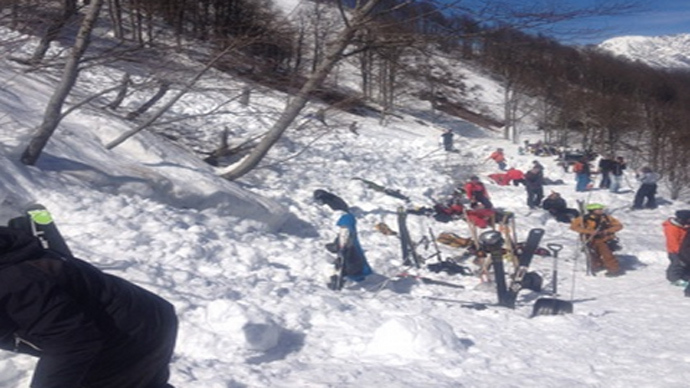 Two skiers were killed and four others managed to escape unharmed after a massive avalanche swept down a slope at the former Winter Olympics venue in Sochi, Russia.
An 80 cubic meter avalanche struck at Sochi's Rosa Khutor ski resort at midday, burying six skiers on the "Labyrinth" slope, according to Interfax news agency.
The Russian Emergencies Ministry reported that two women received fatal injuries as a result of the snowslide.
"Despite all efforts to revive them, they could not be saved," reads a statement on the resort's website.
The other four skiers managed to remain unharmed, with some of them digging themselves out of the snow. The total of 105 rescuers, 20 vehicles, and one aircraft took part in search and rescue operations on Sunday.
"We were skiing on the slope of Rosa Khutor, got tired, and sat down to rest. Suddenly we saw an avalanche sliding down. It appeared literally within seconds and practically swept away everything in its path. Those sitting and resting were knocked over and carried away in the direction of a ravine," witness Mikhail Karamyshev told Komsomolskaya Pravda daily.

According to the paper, one of the surviving skiers sustained a broken arm. The others were luckily unharmed.

The witnesses said they thought the incident "could not have possibly happened" at the given part of the slope and with such good weather conditions. However, a small avalanche was previously reported at the same slope. Experts are now trying to determine the causes of the snowslide.

The local Emergencies Ministry department earlier issued an avalanche alert in the region for those skiing at heights above 1,300 meters from March 19-21. Avalanche-hazardous periods are often prompted by sudden change of temperatures and melting snow. Several dozen people die annually at ski resorts across the globe due to snowslides.