​Snowden elected as rector by students at University of Glasgow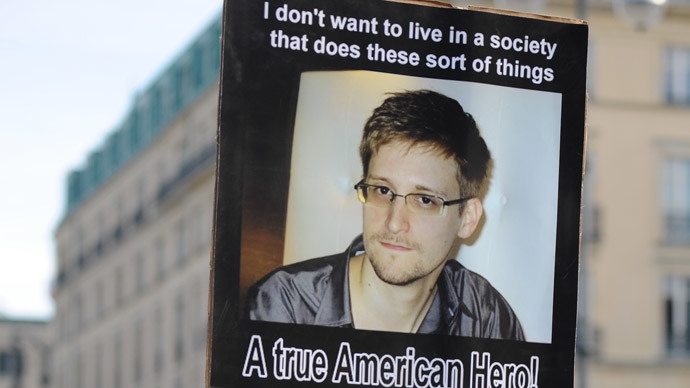 Students at the University of Glasgow have elected former NSA contractor-turned-whistleblower Edward Snowden as the school's rector in the university court for the next three years.
Results of the online election were announced shortly after 17:00 GMT on Tuesday. They showed that Snowden – nominated by students of the school after receiving approval through his lawyer – had bested former racing cyclist Graeme Obree, author Alan Bissett, and the Rev. Kelvin Holdsworth, according to the Guardian.
The University's rector represents the student body before the university court – which assigns resources at the school – and is statutory chairman of the court. A new rector is elected every three years by students.
Snowden is not expected to fulfill his duties as rector, as he is currently under temporary asylum in Russia. He is wanted by the US on charges of espionage and theft of government property after leaking a vast trove of classified material to journalists that revealed more understanding of the National Security Agency's global spying operations.
"We are delighted to see Edward Snowden elected as the new rector of the University of Glasgow," said Chris Cassells, Snowden's spokesman for the rector election campaign. "We have a proud and virtuous tradition of making significant statements through our rectors and today we have once more championed this idea by proving to the world that we are not apathetic to important issues such as democratic rights."
"We would like to thank all other candidates as well as the students who nominated them for promoting an exciting and relevant debating atmosphere over the last few weeks."
David Newall, secretary of the university court, said Snowden's nomination contributed to a historical rector campaign.
"This has been a record turnout for a rectorial election and I warmly congratulate Edward Snowden on his success," Newall said.
Former leader of the Liberal Democrats and outgoing rector Charles Kennedy said: "It has been a pleasure and a privilege to serve the students of the University of Glasgow for the past six years. The post of rector is an important one, and I would like to wish my successor all the very best for his term of office."
Snowden is not the first elected University of Glasgow rector that is not expected to fulfill his duties. For example, South African activist Winnie Mandela was elected in 1987, and fellow anti-apartheid activist Albert Lutuli was elected in 1962, but it was understood that neither would participate as an active rector. The university's first rector, Robert Ramsay, was elected in 1648.
You can share this story on social media: