Snowden 'may meet whoever he wants' over Merkel phone hack – Kremlin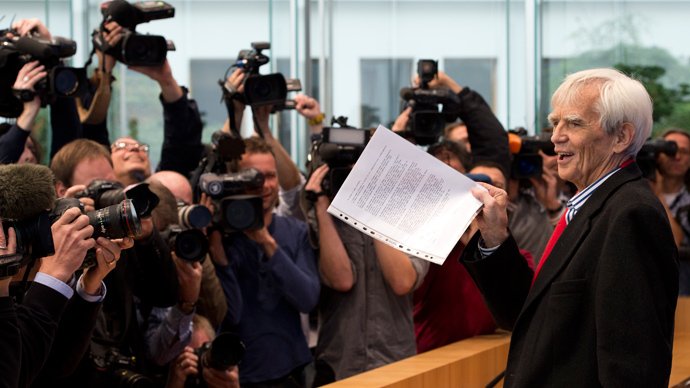 The Kremlin, which granted the Edward Snowden asylum in Russia, does not see the whistleblower's contacts with the German parliamentary probe into the alleged NSA surveillance of Chancellor Merkel as a violation of the pledge not to hurt America.
Snowden, who got stranded in a Moscow airport after the US revoked his American passport, was allowed entry to Russia in August. He was given political asylum there on the condition that he would not further damage the US.
But his latest contacts with German investigators, who are looking into the alleged wiretapping of Angela Merkel's phones, are "clearly damaging US national interests," a senior White House official told the Russian Kommersant daily on Friday.
Snowden has given assurances many times that he has handed over the entire cache of classified documents to the press, which he took from the US National Security Agency's networks, while he was in Hong Kong. Washington suspects this may not be true. US officials believe that while staying in Russia, Snowden keeps in touch with journalists around the world and provides them with more material, exposing secret surveillance practices.
The accusations have been dismissed by presidential spokesman, Dmitry Peskov, who assured the newspaper that "nobody allows" Snowden to violate his pledge.
"But he is in Russia after legally obtaining temporary asylum and he is free to meet whoever he wants to – it's not up to us to obstruct this," he added in a reference to Snowden's meeting with German Greens lawmaker, Hans-Christian Stroebele, in Moscow on Thursday.
The Germans are investigating the alleged wiretapping of its leader by American secret services, which was reported by Der Spiegel and Die Welt last week. The reports caused outcry in the country, with many critics branding the NSA's actions as those worthy of the Stazi, the notorious secret police of Eastern Germany during the Cold War.
Snowden may serve as key witness in the investigation, and may testify in person, if Berlin guarantees that he would be safe from arrest and deportation to the US. Several top German officials, including Interior Minister Hans-Peter Friedrich, said they thought that bringing the whistleblower to the country would greatly benefit the investigation.
This, however, is likely to require a lot of judicial consideration, since his temporary status as refugee in Russia does not allow him to leave the country, his Russian lawyer Anatoly Kucherena said.
Snowden, a former NSA contractor, leaked top secret materials to a select number of journalists, to expose what he believes as unlawful actions of the US government and its allies. The documents, which have been the basis of many scandalous reports in the past few months, detail dragnet gathering of phone and internet data, spying on world leaders, alleged cases of economic espionage by the US and other issues.
You can share this story on social media: