US 'blocks my asylum': Snowden invites human rights activists to airport meeting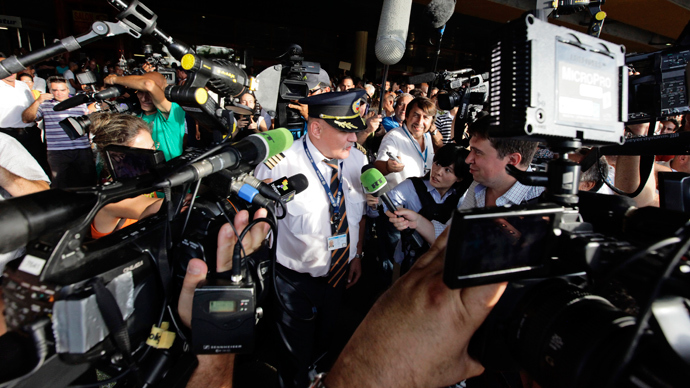 Edward Snowden is meeting Russian based human rights activists in Moscow's Sheremetyevo Airport. He will reportedly ask them about the US which hunt against him, which he believes is putting other airline passengers at risk.
"Edward Snowden wishes to express his thoughts on the US campaign for his capture that has put other passengers heading to Latin America at risk as a result," a source told the Russian news agency Interfax.
RT's reporter Irina Galushko, who is at Sheremetyevo Airport, tweeted that there were already a large amount of journalists amassed in the terminal building.
there seem to be more journalists at the terminal than passengers -- all looking for a sign of #Snowden

— Irina Galushko (@IrinaGalushkoRT) July 12, 2013
US officials have been trying to prevent Edward Snowden from taking up offers of asylum, the whistleblower wrote in a letter sent to a Human Rights Watch official, Reuters reported. 
The letter said: "I have been extremely fortunate to enjoy and accept many offers of support and asylum from brave countries around the world. These nations have my gratitude...
"Unfortunately, in recent weeks we have witnessed an unlawful campaign by officials in the US government to deny my right to seek and enjoy this asylum under Article 14 of the Universal Declaration of Human Rights.

"The scale of threatening behavior is without precedent: never before in history have states conspired to force to the ground a sovereign President's plane to effect a search for a political refugee."

#Snowden didn't ask to meet with #Kremlin officials, says presidential spokesperson

— Irina Galushko (@IrinaGalushkoRT) July 12, 2013
Invitations to the meeting were sent out to the UN's representative in Russia as well as the representatives of Amnesty International, Transparency International, the Human Rights Watch, Krido Legal (a Polish human rights organization).
"The way that US authorities are treating the situation is cynical. How can one take away a person's passport and deprive him of citizenship? This isolation, the impossibility to leave, could be equaled with arrest. I understand his plight as a professional lawyer, as a professional attorney," one of the invitees, human rights lawyer Anatoly Kucherena, told RT in a phone conversation. 
"This meeting establishes Edward Snowden in the status of a political dissident and a fighter for human rights," Aleksey Pushkov, head of the Duma Foreign Affairs Committee tweeted.

The meeting will take place in Sheremetyevo Airport's transit zone, as Snowden is unable to get through passport control because he does not possess a valid passport. The former CIA employee has been holed up in the airport for almost three weeks.
Photo: Richard Stallman (left) Edward Snowden (center) Julian Assange (right) "YES WE CAN" (last night) http://t.co/ZZKiVjunIU

— WikiLeaks (@wikileaks) July 12, 2013
Washington has issued an extradition order against him for the classified documents he leaked that blew the whistle on the US' mass surveillance programs, including PRISM.

Snowden has applied for political asylum in more than 20 countries. He is currently awaiting confirmation from a number of Latin American states.
Both Venezuela and Bolivia have offered asylum to Snowden, but have not formally granted the request. The country that takes in the whistleblower will have to provide him with travel documents, as without a valid passport he cannot even buy a ticket.

In addition, getting to the country of asylum may represent a significant stumbling block for Snowden. There are no direct flights from Russia to Latin America, and as such Snowden would have to stop over in Cuba if he were granted asylum by Bolivia or Venezuela. That would necessitate passing through European countries' airspace.

Bolivian President Evo Morales' plane was forced to land in Austria last week on its way to La Paz from Moscow amid suspicions Snowden had stowed away on board. France, Spain, Portugal and Italy closed their airspace, obligating the presidential plane to land in the Austrian capital, Vienna.

In response to the incident Latin American countries were united in their condemnation of the US and EU, decrying the air blockade as a violation of international law.

You can share this story on social media: