NSA leaker Snowden may leave Hong Kong for Iceland on private jet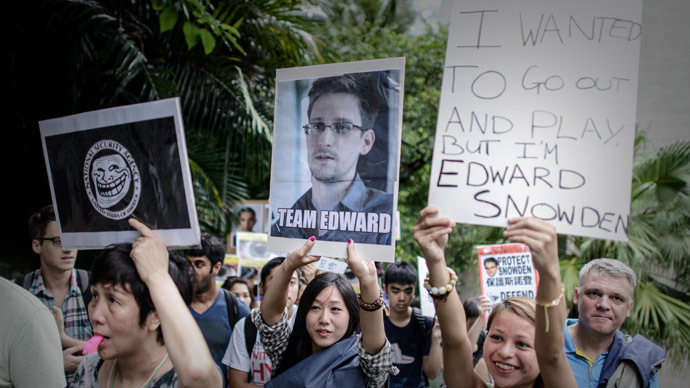 A WikiLeaks-linked Icelandic businessman claims to have prepared a private jet to bring NSA leaker Edward Snowden to the country if his asylum request is approved. The whistleblower, who is wanted in the US, reportedly remains in Hong Kong.
"A private jet is in place in China and we could fly Snowden over tomorrow if we get positive reaction from the Interior Ministry. We need to get confirmation of asylum and that he will not be extradited to the US. We would most want him to get a citizenship as well," Reuters quoted Icelandic businessman Olafur Vignir Sigurvinsson as saying.

Sigurvinsson – the former head of DataCell, a company that handles donations for WikiLeaks – said that a Gulfstream G550 jet has been chartered for Snowden at a cost of more than $240,000 thanks to individual contributions received by his company.

He added that other means of transport had been arranged for Snowden as a backup, but the jet is the preferred mode of transport: "We need to play it as it comes, so we are basically ready for anything. We might need to go by boat for a bit, cars and planes will be involved."

WikiLeaks founder Julian Assange said Wednesday he has been "in touch with Mr. Snowden's legal team," and they are working on "the process of brokering his asylum in Iceland."

Snowden reportedly requested asylum in the Nordic island-nation earlier this week through WikiLeaks spokesperson Kristinn Hrafnsson. The Icelandic government confirmed they had received Snowden's appeal, but no decision has been made yet.

Icelandic Prime Minister Sigmundur David Gunnlaugsson confirmed there had been "informal talks" between his government and Hrafnsson to sound out the possibility of the country granting Snowden asylum. The PM declined to comment further on the matter.

"To apply for asylum in Iceland, the individual in question must be present in Iceland and make the application in his or her own name," an Interior Ministry spokesperson said.  As a US citizen, Snowden is free to enter Iceland without a visa and can immediately apply for asylum. However, the US may move to arrest him before Icelandic immigration authorities decide his case. The asylum process could ultimately take more than a year, Reuters reported.

The Ministry's spokesperson was reluctant to comment on whether Iceland would grant asylum or citizenship should Snowden arrive. The US has also not yet filed a formal request for his extradition from Hong Kong, where Snowden fled from Hawaii shortly before his disclosure of the NSA's surveillance activities.   

Snowden said he did not travel immediately to Iceland – a country known for promoting Internet freedom – as he feared the country could be "pushed harder, quicker" by Washington. The asylum process could ultimately take more than a year, Reuters reported.

"Iceland could be pushed harder, quicker, before the public could have a chance to make their feelings known, and I would not put that past the current US administration," Snowden said in an online Q&A with the Guardian.

You can share this story on social media: