Snow scares: IDF urges avoidance of Golan minefields after worst storms in decades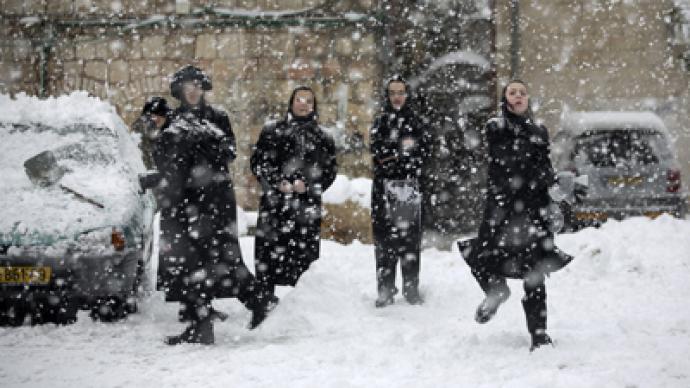 The Israeli army has called on people to avoid visiting Golan minefields covered with snow after the country was paralyzed due to the harshest snowstorm in decades. There are around 2,000 mines within the territory of the Golan Heights.
The IDF has also reminded people thrilled by snow that it is strictly prohibited for all civilians to breach the barriers made of barbed wire fence, Newsru.co.il reported.The army's warning comes after Israel was hit by the worst snowstorm in 20 years which shut down schools and government offices, and brought public transport to a halt. Cases of casualties on Golan minefields have happened in past snowfalls. For instance, three years ago an 11-year-old boy lost his foot after tripping a mine, while his 12-year-old sister got numerous shrapnel wounds. Three other people were also taken to hospital over shock. Dozens of people who witnessed the accident said that they saw no warning signs or barriers to prevent it. The military then admitted to the fact that the signs are often covered with snow and fall over, which could be misleading, especially for tourists.As for the latest snowstorm, Elisha Peleg, an official in charge of emergencies with Israel's Municipality of Jerusalem, urged residents to remain at home and stay off the streets, Reuters reported. The Palestinian meteorological institute indicated that snow levels in the Ramallah, East Jerusalem and Bethlehem areas had reached 10-20cm, and as much as 30cm in Hebron. Triggered by the melting snow, flooding began in the northern West Bank, where water "inundated dozens of houses and widely damaged agricultural areas local farmers depend on for their livelihoods," a local governor, Talal Dweikat told Palestinian Radio.Transport was crippled by the weather, with a highway linking Jerusalem to Tel Aviv blocked and much of the northern Galilee region paralyzed by heavy snowfalls, Israel Radio pointed out.
You can share this story on social media: