Georgia: No smoking? No way!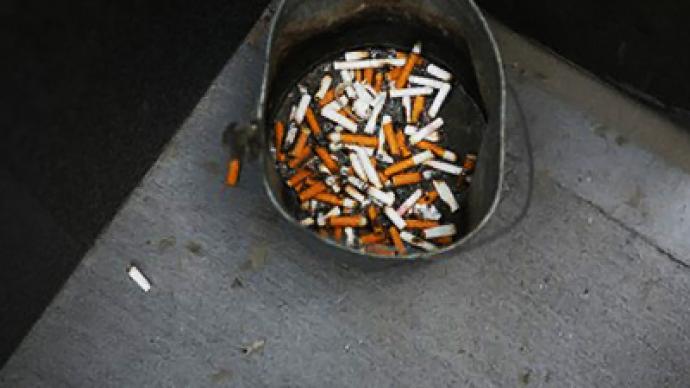 According to the World Health Organization, regular smokers are shortening their lives by 15 years. But in Georgia, the strength of the addiction for some, means choosing fags over food.
Bad skin, yellow teeth and an unpleasant odor – just some of the tell-tale signs of the hold tobacco has on people.They know the dangers and they say their habit is too expensive, yet, many around the world still choose to smoke. In Georgia, the statistics paint a gloomy picture. A recent study conducted by The Tobacco Control Alliance showed that almost 40 per cent of the population – including children and the elderly – are smokers. Anti-tobacco NGOs say the number of youngsters taking up smoking, has more than doubled over the past five years.Naira Khatiashvili took up the habit in her teens."My father left cigarettes on the table… I was curious, picked one up… and have been smoking since that day," Naira says.She says smoking never interfered with her day-to-day activities. And she does not intend to give up anytime soon: "Half of my salary goes on cigarettes, but I do not want to quit. It is the only pleasure in my life I can afford."Every pack of cigarettes sold in Georgia bears the clear message: smoking is bad for you. From premature aging, to cancer and heart disease, the warnings are all there. Yet, many Georgians continue to light up, even if they have to choose between buying food or a pack of smokes.Ghiuli Chkhaidze is one of those, who would like to quit, but says, he simply cannot. He gets through four packs a day – despite having undergone a coronary bypass two years ago."I wake up and immediately have a cigarette. If I'm running out of money, I'll choose buying cigarettes over buying bread," Ghiuli says. He knows his health problems stem from smoking, but says he is powerless to change.Some, like the chairman of the Tobacco Control Alliance in Georgia, Georgi Bakhturidze, believe profit from the cigarette business is one of the reasons why so many in the country smoke. "Around 50 per cent of the tobacco business in Georgia is part of the shadow economy… which has huge influence over governmental officials and politicians in our country," Bakhturidze says.The Tobacco Control Alliance is trying to work with the government on stricter control of tobacco sales and advertising in the country. But for now, smoking remains a favorite pastime for many Georgians.
You can share this story on social media: