Sleepless night for CEO: angry Sony France workers release top managers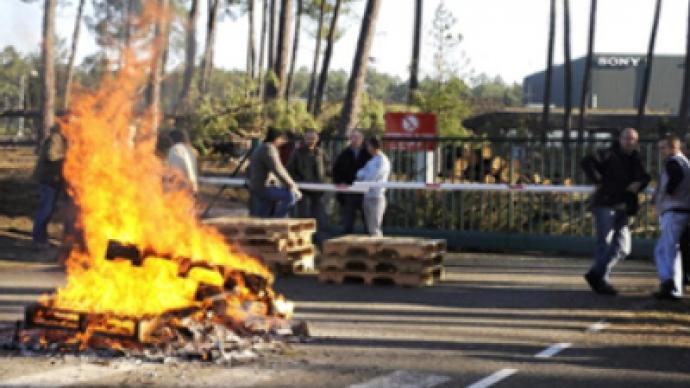 Sacked workers of Sony France have released their company CEO after holding him captive overnight. The employees are demanding better layoff terms when their factory closes in April.
Workers, not satisfied with the amount of compensation the company promised them, had been holding CEO Serge Foucher and top HR manager Roland Bentz at the videotape plant in South-West France, where the officials arrived for a courtesy visit.
Workers locked the managers in the premises and blocked the road leading to the side with three trucks.
The executives spent a night in the meeting room of the plant until the workers obtained guarantees that they would be allowed to partake in the next round of talks.
"We hope this time our voices will be heard," union member Patrick Hachaguer told Reuters.
After being released, Foucher and his HR director were escorted to negotiations in the presence of local authorities, which have stepped in as mediator.
"We want to contribute to the exchange of opinions so that the talks progress as quickly as possible," said Etienne Guyotm, head of the Landes department where the plant is situated.
The closure of Sony France, which employs 311 people, is scheduled for April 17. The plant has operated since 1984 and mainly specializes in manufacturing magnetic videotapes.
Tensions have been high in crisis-hit Europe. On Thursday, workers of a German tire plant that belong to Continental hurled eggs at and insulted managers in protest against its closure.
You can share this story on social media: