Serving to death in the Russian army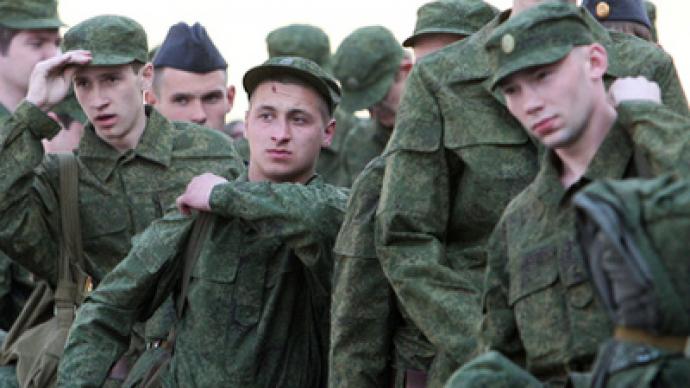 Army life can be tough, but for Russian conscripts there is an added danger – systematic bullying and abuse from within their own ranks. During the first two months of 2011, the Russian army reported more than 500 violent crimes.
The violent humiliation becomes tragically too much for some to bear. As a result of those crimes, more than 20 soldiers were seriously injured and two others died.According to Russia's military prosecutor, Sergey Fridinsky, the number of violent crimes in the Russian army increased by more than 16% in 2010. And every fourth offense today is an unlawful act against a fellow officer.It is also called hazing, and Valentina Starovoytova, the head of the Committee of Soldiers' Mothers, is all too familiar with its consequences."Reports about soldiers suffering physically and morally are coming in every day," said Starovoytova. She runs the Committee of Soldiers' Mothers, an organization partly funded by the government. On a day-to day basis, her job is to protect soldiers from the harsh realities of service."There is protection rackets, when a boy has to pay another soldier, say, 2000 rubles a month to be able to serve normally, to be freed from bullying," said Starovoytova. Unfortunately, as we met, one more case was added to her workload.Phillipe died at the age of 20, in suspicious circumstances.  The military claims it was a traffic accident, but his family wants to know why 40 minutes passed before medical attention was sought.His loved ones now join the list of other bereaved families awaiting answers. Over a year ago Starovoytova's attention was turned to Dmitry, who had died just a week into his service.It is a loss his mother still finds hard to bear.Lyubov Shcherbakova comes to lay flowers on her son's grave. Soldier Sergey Shcherbakov died serving in the army. "Hello my dear little son," his mother weaps. "I am miserable without you. There is no life without you. I didn't save you. I didn't save you from that army. Forgive me." The official explanation was pneumonia, but pictures of his body appear to tell a different story."My son's body was covered with bruises all over. And the bruises were skillfully cut out of their skin. It was so cynical," she said. Still unresolved, but Sergey's is a rare case. More common are those who receive beatings that leave them hospitalized with lasting injuries, such as  Dmitry Zhulavsky.Six months into his service, Zhulavsky was left in a coma for three months following a run-in with a senior squad member."I can't remember what happened. When I woke up, I had a severe head injury. Next there followed a long and tedious rehabilitation process which is not yet over," said Zhulavsky.The rise of such crimes has led some to find new ways to raise awareness.The Mothers' Rights Fund is one such group. They have created a webpage where families can post personalized accounts of what happened to soldiers. To date they have received over 4,300 requests from bereaved family members wanting their story told.The abuse has been acknowledged by the Ministry of Defense."The two major reasons behind the phenomenon of hazing and bullying in the Russian army are the following: firstly an increase in the number of draftees, and second, mistakes by individual commanders," the Ministry of Defense said in explaining the rise in cases. Last year the Ministry of Defense initiated 2,000 military hearings. It is a response many will feel is left wanting. Nonetheless hazing is no longer an issue Russia can ignore. The army is looking to modernize, turning away from mass conscription toward a professionalized force. To do this they will rely on new recruits – meaning in the future the health of individual soldiers may be central to that of the nation's armed forces.
You can share this story on social media: