Mass beating in Russian army unit leaves 16 injured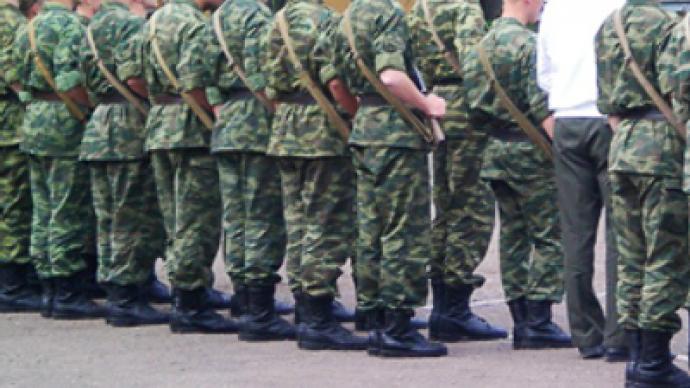 Junior sergeants allegedly have drunkenly beaten up sixteen conscripts in a military unit in Russia's Leningrad region. One soldier has been taken to hospital with a broken jaw.
Conscript Vladimir Romanov and contract soldier Aleksey Banetsky managed to escape the unit in Kamenka in the Vyborg district. Romanov, aged 23, told the human rights organization "St. Petersburg's Mothers of Soldiers" about what happened:
"We were at the field trainings when around 4am, three junior sergeants came into our tent. They were drunk. They got everyone up and started to beat them," Romanov told the human rights group. "There were sixteen of us, youngsters. They beat one after another. It continued until 9am. The one sergeant who was beating me told me to get him 3000 rubles [around $100] or he would make me handicapped."
Commander of the Leningrad military district, Lieutenant-General Nikolay Bogdanovsky, has requested an administrative investigation into the Kamenka unit.
"The investigation was launched yesterday [October, 5]. After the results, those who are guilty will be brought to justice or even sacked from the army," the commander's assistant Colonel Yury Klenov told Interfax news agency.
The preliminary results of the investigation partially confirm the soldiers' words.
After speaking with an investigator, Aleksey Banetsky has been sent to hospital, while Vladimir Romanov is still considered to be absent without leave. The day after the fight, Vladimir's father tried to take his son to hospital, but they were reportedly attacked by a group of military men. Vladimir's father managed to protect his son.
Deputy commander of the unit Georgy Pavlov, responsible for educational work, denies any beatings took place.
"No hazing of Vladimir Romanov took place in the unit," Pavlov told Komsomolskaya Pravada newspaper. "It's unknown why he deserted. We will investigate the reason for this. Romanov is a grown up person and not a child. He had two more months to serve when he ran away. The father of the soldier appeared to be a strange man."
The investigation in the case is set to continue until 12th October, after which it will be decided whether or not to launch a criminal case.
It's not the only case of this kind to happen in Kamenka, say human rights group "St. Petersburg's Mothers of Soldiers".
"Over several years, our organization has recorded cases of fundamental human rights abuse in the military units which are located in the Kamenka village in the Vyborg district. Servicemen are subject to daily criminal violence, blackmailing for money, torture. Unfortunately suicide cases and murders have become more common too," Interfax quotes the official statement released by the organization.
The head of "St. Petersburg's Mothers of Soldiers", Ella Polyakova, blames the expanded military draft for the rise in the number of such incidents. The fact that conscripts are being sent to the same military units with contract soldiers provokes a larger number of criminal cases in the Russian army, she claims.
You can share this story on social media: