Serbian Parliament approves 'normalizing' Kosovo ties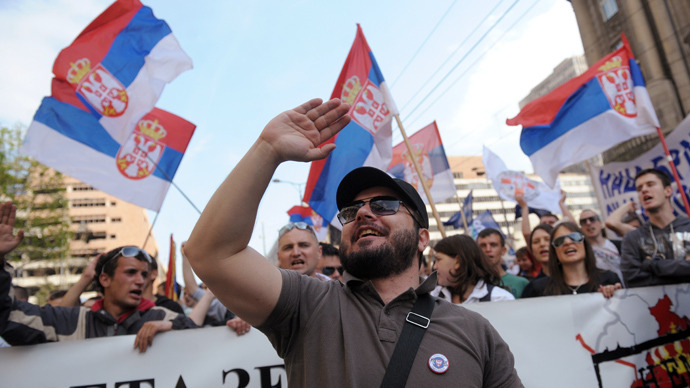 Serbia's Parliament has voted to normalize relations with Kosovo, despite widespread protests. Apprehensions linger that Serbia will later be forced to declare Kosovo independent as it moves towards EU membership.
Serbia's Parliament backed the deal in a 173-24 vote on Friday night, as hundreds of constituent members and allies of the Democratic Party of Serbia protested outside the building, chanting "treason," and "you betrayed Kosovo."

Belgrade officials agreed to recognize the authority of Pristina – Kosovo's largest city – over the breakaway region, in return for wide autonomy of Serbs within it. However, Belgrade does not consider Kosovo independent, and neither do its Serbian residents.

On Monday, the European Commission officially recommended that Serbia begin membership negotiations with Belgrade. The EU's foreign policy called the normalization move "brave."

"We could have rejected the deal and thus become the North Korea in Europe, but what would happen with Serbia then," Serbian Prime Minister Ivica Dacic said.

The move is widely regarded as a step towards Serbia's entry into the European Union. However, all but five EU member-states have already recognized Kosovo as independent. Fears remain that full EU membership will not be granted unless Serbia bows to pressure to declare the Kosovo region completely independent.

Earlier this week, students from local universities joined in extended protests, saying that less than half of the country's Serbs want Serbia to be assimilated into the European Union, and that their government is not listening to the wishes of the people.

Some 3,000 people showed up at preliminary protests in Belgrade.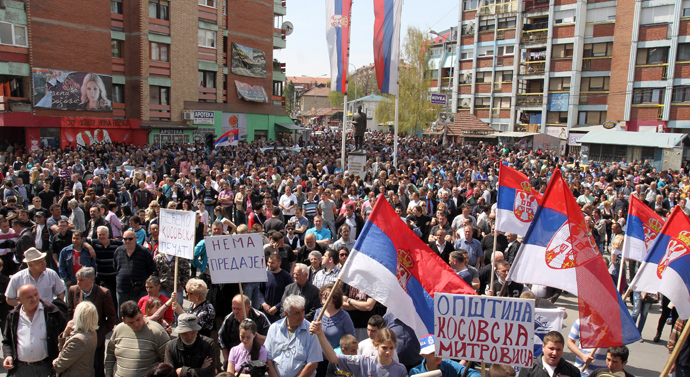 The Serbian Church has also expressed vocal opposition.
"This appears to mark the pure surrender... of our most important territory in spiritual and historical terms,"
head of the Serbian Orthodox Church Patriarch Irinej said in a statement on Monday.
"The price of eventual entry to the EU will be formal recognition by Serbia of an 'independent Kosovo,'"
he told Reuters.
The move would be a deeply controversial one, as the Kosovo region has a Serbian population of over 220,000, and ethnic tensions have flared sporadically.
The most serious in recent years was in 2004, when dozens of Serbian Orthodox churches across Kosovo were set on fire. In 2011, it was discovered that over 10,000 Serbs names had been 'Albanianized' in official documentation, according to local press, despite the majority of the Serb population still regarding Belgrade as their government.
Kosovo Serbs have proven their resistance against Pristina's control, constructing barricades to prevent authorities from entering their enclave in 2011.
But President Dacic has remained resilient, declaring that the vote itself was a question of Serbia's fate as a nation in Europe. However, he reiterated that Friday's official normalization of ties was not a recognition of independence.
"Serbia lost control of most of Kosovo following the NATO bombing campaign in 1999,"
Dacic told RT earlier this month.
"We must nonetheless make sure that Kosovo's Serbs are guaranteed peace, respect for their human rights and civil liberties."
Serbia wants to ensure its population in the region is protected, and ceding it to Pristina would have enormous implications for the rights of Serb residents.
"We need to focus on, and provide for the interests of the communities that live in that territory. We are ready to discuss Kosovo's international status with Pristina, but they are reluctant to do so. They regard their independent status as an established fact,"
Dacic said.