Good crop, bad crop: French scientists dismiss Monsanto 'cancer corn' study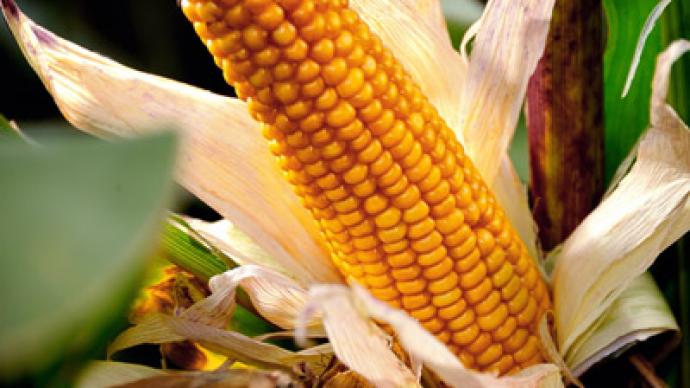 Six leading French academies have condemned last month's controversial study that linked genetically-modified corn and weedkiller produced by agri-giant Monsanto with cancer. The verdict was backed by two government-commissioned scientific reviews.
The national academies of agriculture, medicine, pharmacy, sciences, technology and veterinary studies issued a joint statement condemning the findings on Monsanto's NK603 corn, which were published last month by molecular biologist Gilles-Eric Séralini of the University of Caen."Given the numerous gaps in methods and interpretation, the data presented in this article cannot challenge previous studies which have concluded that NK603 corn is harmless from the health point of view, s are, more generally, genetically modified plants that have been authorised for consumption by animals and humans," the statement read.Séralini, a longtime and vocal opponent of genetically-modified crops, tested several groups of rats by feeding them Monsanto's NK603 corn, which was genetically modified to be resistant to Roundup, a popular pesticide also sold by the US company. The study lasted for two years and showed how rats that ate NK603, both untreated and treated with Roundup, developed cancer at higher rates than the control group.NK603 was approved for sale in the EU in 2003, but is not grown on a commercial scale. (France outlawed the cultivation of genetically modified [GM] crops.) Most of the modified corn reaches the food chain as livestock feed imported from major producers abroad.Séralini's study – whose findings contradicted dozens of previous safety reviews – made its way to the front pages of European newspapers. The report sparked widespread calls for a Europe-wide ban on GM foods, which are already subject to severe restrictions.In their statement, the academies questioned Séralini's integrity. His study, co-authored with Dr. Spiroux, a homeopathy and acupuncture specialist, was largely financed by anti-GM activists and organic food supermarkets. The findings were then disseminated through a group of handpicked sympathetic journalists, who signed a confidentiality clause forbidding them to show the paper to other scientists prior to publication.
On the defensive. Gilles-Eric Seralini (C) with Dr Joel Spiroux (R) and MEP Corinne Lepage (AFP Photo/Kenzo Tribouillard)With just a few articles, these journalists set off a media firestorm that renewed concerns about GM foods and forced the mainstream scientific establishment onto the defensive."Hyping the reputation of a scientist or a team is a serious misdemeanor when it helps to spread fear among the public that is not based on any firm conclusion," the academies' statement said.A statement last week from the French National Centre for Scientific Research criticized Séralini's media onslaught on ethical grounds, claiming it misled the public on major and sensitive issues.The censure was backed by the simultaneous verdicts of the Higher Biotechnologies Council (HCB) and the National Agency for Food Safety (ANSES), two leading government agencies charged with reviewing the concerns raised in Séralini's study. Both bodies dismissed the report, saying it was not comprehensive enough to be a wholesale review of GM crop suitability."The data is insufficient to establish scientifically a causal link… or to support the conclusions or pathways suggested by the authors," ANSES said.The paper also earned widespread criticism for its methodology. Tom Sanders, head of the nutritional sciences research division at King's College London, saying the study was a "statistical fishing trip," manipulated from the start to achieve a specific result.Séralini used Sprague-Dawley rats for the study. This sub-species is highly susceptible to developing tumors, with two-thirds of males and more than half of females expected to die from cancer during the course of a two-year experiment regardless of what they ingested. This ubiquity of tumors makes them an unusual choice for a study about carcinogenic effects of a certain food, as it can be difficult to discern from an already astronomically high cancer rate. The Organization for Economic Cooperation and Development (OECD) recommends that only rats with a survival rate of more than 50 percent, which are easily available, be used in two-year studies.The second major criticism of the study was its small sample size. The OECD recommends that 50 rats of each sex be used in any test group. Séralini used test groups of ten, meaning the control group for two years was only twenty rats in total. The difference between the groups fed NK603 corn and the control group was one or two dead rats over a period of two years. In some cases, the results direct contradicted the study's claims: some rats subjected to a diet of Roundup corn had a better survival rate over the two-year period than ones fed an organic diet. Rather than believing that drinking water contaminated with pesticides helps to decrease cancer, critics say that in such a small sample size noticeable differences in results can be explained by chance.Séralini, who has caused several similar controversies with other anti-GM studies since 2004, responded to the criticism by saying he stands by his conclusions. However, he has refused to share the detailed the observation records that formed the foundation of his paper until genetically-modified foods are banned by European authorities.The rejection of the study's findings is unlikely to dampen the resolve of other anti-GM advocates.Michael Antoniou, a molecular geneticist from King's College London, recently published an extensive review of several hundred previous GM food studies.He concluded that the technologies used to produce GM foods were imprecise, and despite assurances of total safety, the current licensing mechanisms – even in the EU – are perfunctory, with much research funded by the producers themselves using only short-term studies that gave no insight into the long-term effects. He also noted the lack of large-scale human trials.Meanwhile, many of the animal studies he listed demonstrated possible adverse effects from GM foods such as liver and kidney toxicity and possible allergenic effects.Now, despite the recent dismissal of Séralini's study by authorities in France, Germany, Australia and the European Food Safety Authority, apprehension over these issues in so-called 'Frankenfoods' has come back to life in Europeans, a group that has traditionally been staunchly anti-GM. The latest 2010 'Eurobarometer' survey on the issue showed that 59 percent of all EU citizens believe that genetically modified food is unsafe. Ten percent of the world's agricultural land is used for GM crops, but only 0.06 percent in Europe.Following this latest crisis of confidence, HCB and ANSES have called for further follow-up studies into the safety of GM crops.­Igor Ogorodnev, RT