Raised eyebrows at sentence of speeding killer from German embassy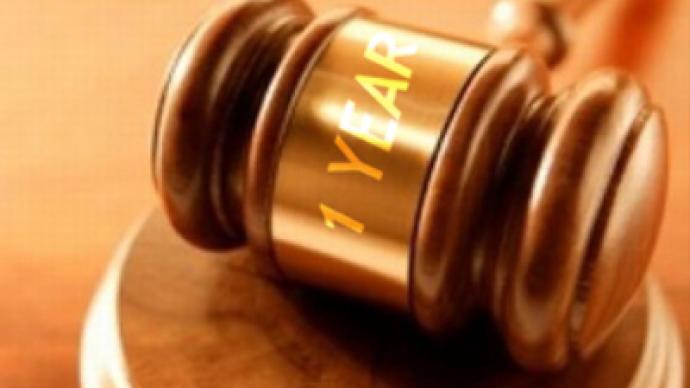 An embassy employee has been sentenced in Germany to one year's suspended sentence for killing two students in Moscow in a road incident.
Russia has called the ruling "highly dubious", while relatives of the victims have pledged to appeal.
The lethal run-over happened on November 30 last year. Benjamin Thomas Hobert, 32, who worked as a language teacher at the German embassy in Moscow at the time, was driving his black Porsche Cayenne which hit two young men walking across a pedestrian crossing. Both died at the scene.
Police say the car was traveling at more than 110 km/h, which is almost twice the speed limit on the street where the tragedy happened. There were also no braking marks from the car's wheels before the crossing.
Hobert was not detained after the incident, since he had diplomatic immunity. He also refused to undergo a medical examination when asked by the police.
According to Russian prosecutors, it was not the first speeding accident for the man. He had been stopped for breaking traffic regulations three times and at least once he was allegedly driving drunk. However his immunity saved Hobert from prosecution.
Several days after the November tragedy, Hobert returned to Germany to his home city of Munster, where his case was heard before a local court. The ruling, which was passed this week, has raised many eyebrows in Russia. The man was sentenced to one year suspended. He was also fined 5,000 euro and stripped off his driving license for one month. In comparison, the maximum punishment for a road accident resulting in several deaths in the German criminal code is 10 years in prison.
"This is terrible!" commented the mother of one of the victims to Komsomolskaya Pravda newspaper. "We will fight on. There is the European Court for Human Rights. There were so many strange things in the trial."
"Hobert paid 2,500 euro to Germany and a similar sum to a charity. And we, the relatives of the victims, received no compensation. But it's not money we want. It's justice," she added.
Russian officials called the ruling "highly dubious" and say they will challenge the German court's decision.
"Together with General Prosecutor's Office we'll analyze the materials and procedures of this criminal trial in Munster. We'll work out the prospects of challenging the German court's verdict through the channels of international legal cooperation," said Russian Foreign Ministry spokesman Andrey Nesterenko.
Meanwhile, some human rights activists say they see no logic behind the verdict.
"One might imagine the reasoning of the German judge: a law abiding German citizen got into an accident in far savage Russia because of some pedestrians who walk wherever they want and so on," leader of the Russian Drivers' Movement, Viktor Pohmelkin, told Gazeta.ru news website.
He added: "If he was found not guilty, it could be attributed to mistrust of Russian justice. But as it is, the sentence looks like a mockery of both Russia and the relatives of the dead."
You can share this story on social media: