Are you ready for your 'selfie' now? It's the Word of the Year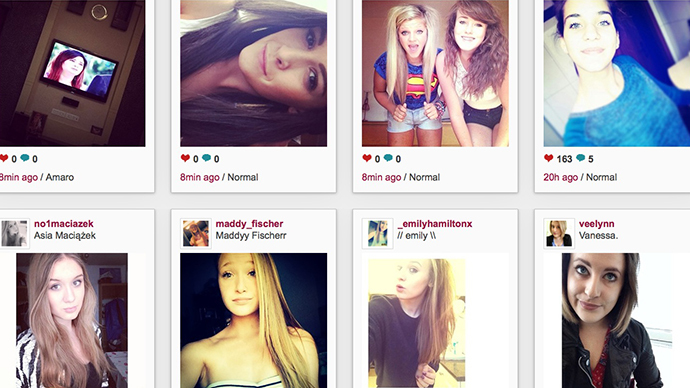 From bathroom voyeurism to social media buzzword, the "selfie" has come of age. The casual smartphone self-portrait has been called Word of the Year by the Oxford English Dictionary, bumping Miley Cyrus's cheeky "twerk" out of the No. 1 spot.
Oxford Dictionaries define the term selfie as "a photograph that one has taken of oneself, typically with a smartphone or webcam and uploaded to a social media website." The word, believed to have originated to an internet forum in Australia in 2002, was popularized after its use by photographer Jim Krause in 2005.
Over the next few years, the word – like the practice of publishing self-portraits on Facebook and other social media itself, went viral, until it "gained momentum in 2013 as it evolved from a social media buzzword to mainstream shorthand for a self-portrait photograph," publisher Oxford Dictionaries told Reuters.
The rise in popularity of selfie was based on "language research conducted by Oxford Dictionaries editors," the publishers say. "The frequency of the word selfie in the English language has increased by 17,000% since this time last year."
This astronomical rise in popularity was the key factor in the choice of "selfie," the editors said. "The Word of the Year need not have been coined within the past 12 months and it does not have to be a word that will stick around for a good length of time," Judy Pearsall, editorial director for Oxford Dictionaries, told Reuters.
The word's usage was calculated by two main programs: Oxford English Corpus, which represents a structured set of texts in digital form, and New Word Monitor Corpus, Oxford Dictionaries said.
The New Monitor Corpus, which aims to mark the appearance of newly coined words and track their changes in geography, register and frequency of use, used automated criteria to scan new web content of "selfie" worldwide. 
Oxford Dictionaries say that "selfie" is not only gaining in popularity but is also "slouching on its throne," or evolving. It has now a lot of spinoffs, such as "helfie" for a self-portrait of someone's hair, "welfie" for a photo taken while working out and "drelfie" for a self-portrait taken while in a drunken state.
"Selfie" beat out several other popular buzzwords such as "twerk," a term for dancing in a sexually provocative way first popularized by singer Miley Cyrus at the MTV Video Music Awards.

You can share this story on social media: