​'Selfie Olympics' parade takes Facebook, Instagram, Twitter by storm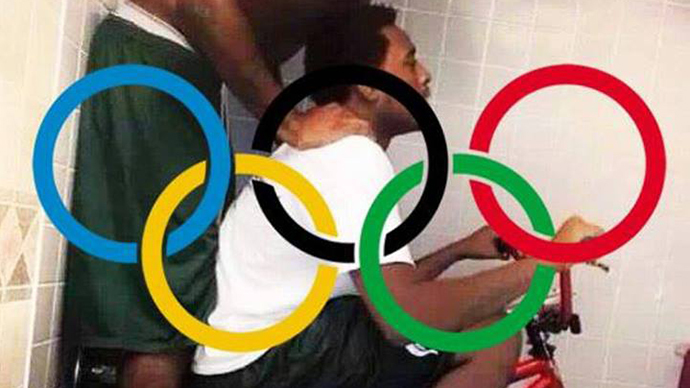 With the Olympics in Sochi coming up fast and the spirit of competition in the air, the world's been on the look out for an alternative type of sport – and to the surprise of many, some of the entries in the Selfie Olympics look pretty challenging.
The word 'selfie' gained such popularity and notoriety in 2013 that the Oxford English Dictionary made it the word of the year. And even though the competition has the word Olympics in it, it is hard to imagine that the billions of people will stop taking pictures of themselves anytime soon.
However, to make an 'Olympics' selfie, it's not enough to just look good, there must zeal and energy and everything constituting the motto "Faster, Higher, Stronger, Twitter." Competitions are held in such fields as door scaling, air hovering, basin fitting – whatever!
SHE'S TAKEN THE LEAD #SelfieOlympicspic.twitter.com/CZx5zDppW0

— Selfie Olympics (@OlympicSeIfie) January 4, 2014
.
Selfie game: "OOOO I'm about to dive in". #selfieolympicspic.twitter.com/OQ1IRiDKUK

— The Selfie Olympics (@SelfieOIympics) January 4, 2014
A number of online accounts advertising the 'sport' came alive, on the usual-suspects sites: Facebook, Instagram and Twitter.
Facebook likes are growing by the hour – Twitter posts are being added by the minute, with tens of thousands appearing in the course of the day.
However, the selfie storm did include some dangerous stunts, as the fun competition seemed to turn into a full-on war for originality and extreme ideas.
Below are RT's picks of the fun photos (of dressed people, and this is a warning)… please forgive us.
When you really need that selfie #selfieolympicspic.twitter.com/GaA6kCGjpy

— Life Pro Humor (@BestProHumor) January 5, 2014
.
I think it's time ya step up your selfie game. #SelfieOlympicspic.twitter.com/7KI1ALI9IB

— The Selfie Olympics (@SelfieOlymplcs) 4 января 2014

.
Mom said hang the towel up #SelfieOlympicspic.twitter.com/XA93ozmdwW

— Smity WeberManJensen (@LewisBantam) January 3, 2014
.
Finding Nemo Selfie pic.twitter.com/SDgafNagMa

— The Selfie Olympics (@SelfiOlympics) January 4, 2014
...
You can share this story on social media: