Search continues for sunken oil rig crew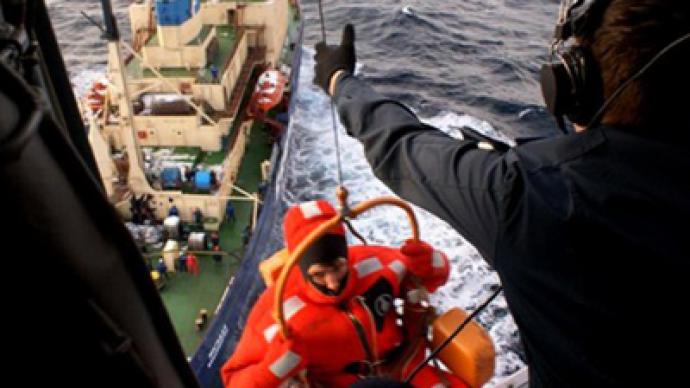 Two airplanes and a helicopter are searching for signs of life in the central area of the Sea of Okhotsk, where an oil rig sank on Sunday, leaving at least 14 dead. The search continues amidst worsened weather conditions.
A Mi-8 helicopter from the Sakhalin-based air company Aviashelf, and an An-74 plane of the Russian Emergencies Ministry, are taking part in the search operation, according to the Ministry's Far Eastern regional center, Itar Tass reports. An IL-38 plane from the Pacific Fleet, which was conducting air surveillance of the area on the first day of the search-and-rescue operation, is at a nearby airfield ready to join.Apart from air support, the icebreaker Magadan, of the Far Eastern shipping company, is at sea for the search. A rescue boat from the Sakhalin Emergency Rescue Center is prepared to join later on Wednesday. Any survivors will be transported to the Korsakov port on Thursday, December 22, for identification procedures to be performed that day. Nine of those killed had been already identified by documents they had with them. A list of those killed and identified, as well as of the survivors rescued, has recently been published on the ship owner's website. The incident happened on December 18, 200 kilometers off Sakhalin Island, as the Kolskaya rig was being towed to Sakhalin Island after finishing its drill mission. There was a total of 67 people on the rig. Fourteen have been since found dead, with 11 bodies evacuated from the sea. Another 14 survived, and the rest are considered missing for the moment.
You can share this story on social media: