Scotsmen bid goodbye to tradition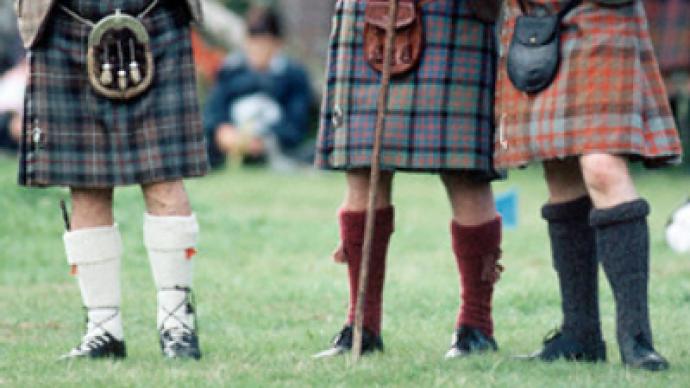 The EU's killing off part of Scotland's renowned kilt-wearing tradition with an animal welfare ban.

Brussels lawmakers have decided to end the sale of products made from sealskin, and that's a problem for kilt-makers who make the sporrans worn on the front of the national dress, reports Britain's Daily Telegraph.
European politicians have voted to ban the manufacture and sale of seal products. The ban will come into effect next autumn when even existing stock will be banned in kilt shops across Scotland.
Sporrans, a traditional part of Scottish Highland dress, perform the same function as pockets on the pocketless Scottish kilt. Legend also has it, that the heavy pouch keeps the front flap of the kilt down during dancing, running and while sitting down legs apart, thus avoiding any embarrassing (or laughing) moments.
Sporrans worn with full Highland dress at formal events, such as weddings, have been made with sealskin for over a century, and the kilt industry claims that synthetic materials cannot produce the same results.
Although the ban is a long-awaited measure for animal rights activists, and is welcomed by wildlife campaigners worldwide, people attached to Highland dress express sadness.
Duncan Chisholm, chairman of the Kilt Makers Association of Scotland, told the Daily Telegraph:
"Traditionally, seal has been used for the sporran for the last 100 years. This is going to change that tradition, and it really is the end of an era. Synthetic sporrans will look artificial."
You can share this story on social media: