UK PM Cameron signs deal greenlighting Scottish independence referendum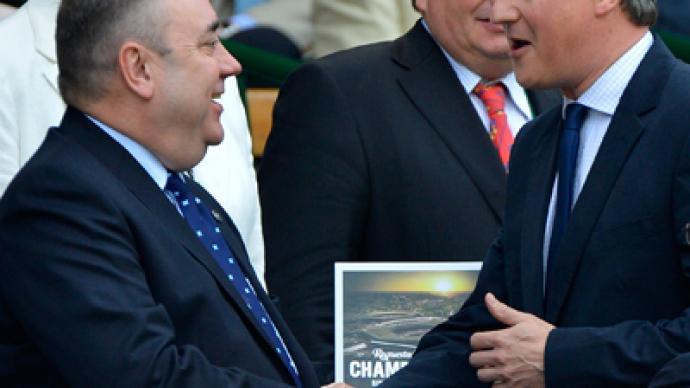 UK Prime Minister David Cameron has signed a historic deal with Scotland's First Minister Alex Salmond to hold a separation referendum in 2014. The signing followed give-and-take negotiations over the vote on whether Scotland will leave the UK.
Cameron and Salmond have finalized the agreement in Edinburgh on Monday, launching a 100-week battle over the future of the United Kingdom.
The 35-clause deal greenlights Scots to vote on a single, yes-or-no issue: Whether Scotland should leave the UK. Salmond's negotiator, Deputy First Minister Nicola Sturgeon, shelved the possibility of a second question on the ballot asking voters whether they would support partial succession, with much greater powers for the Scottish parliament. Whitehall insisted on an all-or-nothing referendum.
Michael Moore, Secretary of State for Scotland in the UK, agreed to other points pursued by the Scottish National Party (SNP), which dominates the Scottish government. These issues included allowing 16- and 17-year-olds to vote, and empowering the Scottish parliament to decide the date, the question and the franchise of the referendum.
"We've compromised, as have the Westminster government in these negotiations, but I'm very satisfied indeed that the outcome of these negotiations is the guarantee of a referendum made in Scotland," Sturgeon told BBC One's Sunday Politics Scotland program.
"I think it's a good agreement. I believe it will now allow us to put up in lights the big issues about the big debate… on what is best for Scotland," Moore told Sky News, adding that the referendum would be "legal, fair and decisive."
Proponents of independence will have to campaign hard to swing public opinion in their favor: The latest poll by NS BMRB suggests that a majority of Scotts, 53 percent, favor staying in the UK, while only 28 percent want to separate.
The SNP's call for separation from the UK comes amid rising sentiment in Scotland that the country's national interests are being undermined by the government in London. Scotland joined with England and Wales in 1707, and participated in the British monarchy before that.
While a majority of Scots want more powers for their own government on issues like economy and defense, the prospect of full independence is viewed more skeptically.
Even if it declares independence, Scotland will likely retain Queen Elizabeth II as its monarch, as does Canada, Australia and other members of the British Commonwealth.