Leaving UK will cost Scots 15% tax hike – report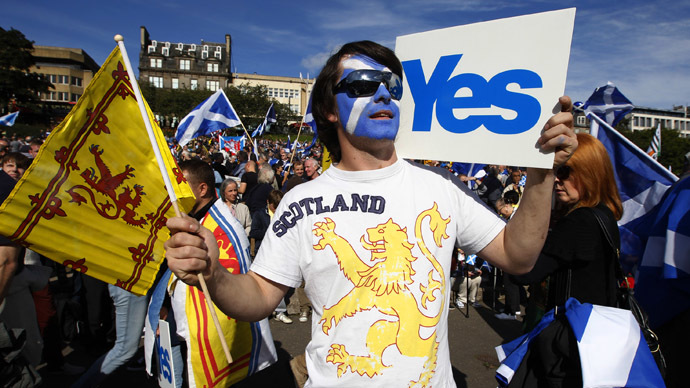 With a year to go until the referendum, a report warns that an independent Scotland will need to make cuts of £2.5 billion. Furthermore, two opinion polls show no increase in support for independence and a large majority of young voters backing the Union.
Scottish citizens are due to vote in a referendum on September 18, 2014 whether they think Scotland should be an independent country.
A report published by the independent Institute for Fiscal Studies (IFS) says scots face a 15% rise in taxes, or will be forced to radically cut public services if they vote to leave the UK.
This would be deeply unpopular in socialist minded Scotland, which has not had to endure the brunt of Westminster's austerity program, thanks to a devolved Scottish parliament, which controls spending in key areas like health and education.
Unlike students in the rest of the United Kingdom, Scottish students do not have to pay tuition fees, while all prescriptions are free as is care for the elderly.
The possible tax hike – in the event of a 'Yes' vote next year – comes on the back of falling revenue from North Sea oil and gas, which is projected to fall by £3.4 billion as current reserves run out.
"Spending on public services is substantially higher per person in Scotland than in the UK as a whole. This is driven by higher spending on many areas like transport, housing, economic development and social services. The Scottish government has used the existing powers under devolution to set different priorities for spending in Scotland," David Phillips of the IFS, told the Daily Mail.
He added that while an independent Scotland might be able to make savings in areas such as defense and foreign aid, it would not be enough to avoid cuts in social services, health and education.
The think tank's findings come a day after another group of economists from the National Institute of Economic and Social Research (NIESR) warned that an independent Scotland would be forced by financial markets to pay billions more in interest to service its high debt levels than it does now as part of the UK.
"Alex Salmond (leader of the Scottish National Party) is telling us we can spend more, cut taxes to big business and still have money left over to put into an oil-fund savings account. Common sense already tells you that this doesn't add up," Alistair Darling, the former chancellor and leader of the Better Together campaign which is fighting for Scotland to remain part of the Union, told the Daily Telegraph.
Polls show majority still want Union
Alex Salmond was dealt another blow yesterday by two opinion polls that showed no increase in support for independence.
A poll by Ipsos Mori revealed that 59% would vote 'No' to the question 'Should Scotland be an independent country?', while 31% would vote 'Yes'.
While a mock referendum among 11,000 16-17 year old school children in Aberdeenshire found that 9,000 would vote to remain in the UK.
This is a double blow for the independence campaign as the Scottish National Party (SNP) won every seat in the county in the last Scottish parliament elections, and because the SNP changed the law in 2012 to allow 16-17 year olds to vote in the hope that this would increase those in favor of independence.
Independence about self determination
Salmond hit back yesterday at a special debate devoted to the independence question in the Holyrood Scottish parliament by arguing that voting 'Yes' is about giving scots the right to determine their own future.
It's "about giving ourselves the power to make our country as good as it can be. It's about the right to decide, the ability to make choices. It's not an argument that is subject to statistical manipulation, it is not an argument for a day's headlines," he said.
Johann Lamont, the leader of the Scottish Labour Party, the biggest rival to the SNP in Holyrood and in Scotland, countered that the SNP's proposals for Scotland were putting the politics of nationalism and dogma before the country's best interests.
"An assumption that the rest of the United Kingdom wants to deny us our rights, our potential, that scots are more progressive, fairer and more generous insults all those radical voices in the UK who are as concerned as we are about what is happening in this country," she said.
The SNP will publish a crucial white paper in November, in which it will set out in detail its plans for an independent Scotland, envisaged to be fully up and running by 2016.