Facebook wonder: Scorpions sing to Russian hospice patient after FB post
Published time: 22 Oct, 2013 20:47
Edited time: 24 Oct, 2013 12:00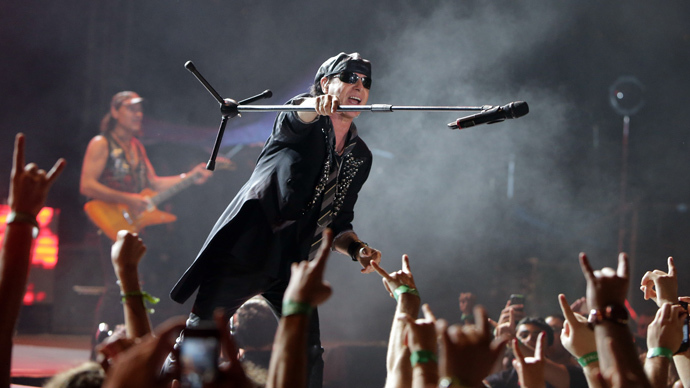 The lead-singer of the Scorpions rock band called a young Russian man with incurable cancer and sang to him after 5,000 Facebook users joined together to help the hospice patient's most cherished dream become reality.
Aleksey Anichkin is only 29, but he is bedridden and has to use an oxygen apparatus to breathe. A history teacher at an orphanage, he has long been a fan of the German rock band Scorpions and dreamed of going to one of their live concerts. 
"Lesha (Russian short for Aleksey) loves the band a lot. He is listening to their music all the time, their tunes support him," his wife, Antonina told AIF.ru news website. She lives with her husband in the hospice in Moscow, helping with treatment, feeding him and giving him water. She says Aleksey deserves such love. 
The musicians – who are currently in Moscow for two shows - learned about Alexey and his dream after Lida Moniava, a manager for the aid fund "Vera" (or Faith) posted a message on the popular social networking service asking users for help. 
"Facebook, please, make a miracle happen at least one more time. We really need the Scorpions group that is on tour in Moscow to come to the hospice. Lesha (Aleksey) is really waiting for them," she wrote. "Lesh, a wonderful boy, loved by all has cancer and is running short of time," she went on.  Moniava said she hoped there might be people on Facebook who were somehow connected to organizers of the Scorpions' show in Moscow and may put in a request with the band. 
And the miracle happened. In less than 24 hours the post was shared by over 5,000 people, with many offering help, searching for contacts and calling the organizers of the band's tour, SAV Entertainment. Thanks to those efforts, users managed to get through to the musicians who promised to at least call Lesha and, if their packed schedule allowed, visit him in the hospice. 
"When we told him that the band's lead singer Klaus Meine was going to call, Lesha was really surprised. He was terribly happy. He was sitting with his cell in his hands and waiting for the call. And after, he was so happy that he burst in tears," Moniava said. 
During the phone call, Meine and his devoted fan spoke through interpreters. The musician said he was disappointed that he could not get Aleksey to their concert. And he sang the Scorpions' hit "Holiday" to Aleksey, who tried to join in but ran out of oxygen.
"Twenty people who were in his room cried. He said it was unbelievable. Unbelievable that the Scorpions sang for him alone. Unbelievable that 5,000 people in one night tried to make his dream come true," Moniava said.  
The band's guitarist Rudolf Schenker also recorded a video message"for Aleksey with love from the Scorpions." 
"We are very sorry for you…Our schedule is completely fully booked. We would love to come to you, but we are with you with our souls," he said, also adding "mi s toboi" ("we are with you" in Russian).    
Aleksey was first diagnosed with cancer at the age of 14 and had one of his legs amputated. And 11 years on – exactly on the day when he turned 28 - bad news came again with doctors diagnosing him with pleural mesothelioma, an incurable form of the disease. According to his wife, medics thought that he would not live longer than 10 months. That was over 1.5 years ago. Doctors and Antonina believe now that Aleksey is in a positive frame of mind, he will get stronger and live longer.

The lead singer of the scorpions Klaus Meine, speaking to RT said that he was very touched when he heard that about Aleksey's story and was happy to cheer him up a bit.

"I was very touched when I had a chance to talk to him and tried to cheer him up a bit. Of course those kids are our fans, and they mean a lot to us. And when you hear a heart-breaking story and what the message was – that he would love to see your concert, but he's in the hospital and can't makes it, and it's very serious – it's important to have a moment for your fans and be there, especially when one is going through very difficult times. It's a little thing, but maybe it gives him good support and makes him stronger," said Klaus.