'No Woman, No Drive!' Saudi women to keep fighting against driving ban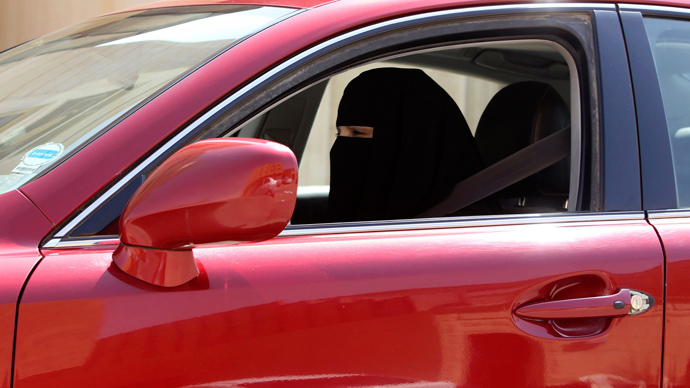 Sixteen Saudi Arabian females have been fined for driving after only a few dozen women braved the threat of punishment on the national protest day "Women's driving is a choice" which took place on Saturday.
Online activists at first planned a global "drive-in" Saturday, but cancelled the campaign after threats from the government, instead declaring an open-ended campaign for those brave enough to drive. Some 60 women sat behind the wheel on Saturday according to the activists.

There were reports that women received threats from the Interior Ministry after the official warning that laws "will be applied against violators and those who demonstrate in support of this cause."

On the day of the action, police stopped six women driving in Riyadh, and fined them 300 riyals each (about $80), the capital's police deputy spokesman, Colonel Fawaz al-Miman told AFP.

Each woman had to sign a "pledge to respect the kingdom's laws," Miman added.

Two women were also fined in Jeddah, police also fined them for driving, according to a police spokesman, Nawaf al-Bouq.

Six more women were stopped in Eastern Province, and other two in other parts of the kingdom, Saudi newspapers reported.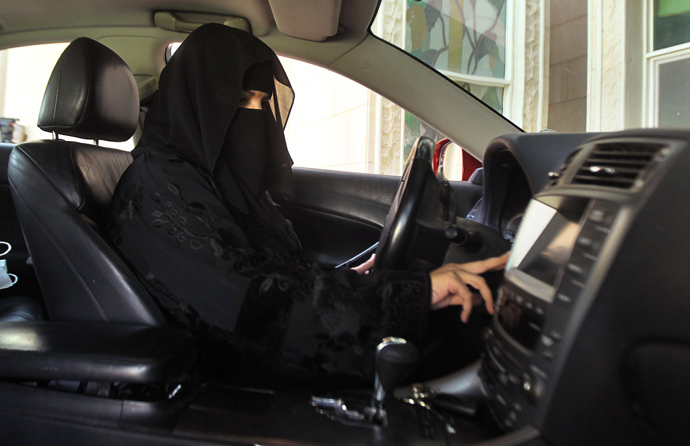 Those who escaped government censure have posted videos showing themselves driving on Twitter, although the official website of the campaign was hacked Saturday.

A black background with red thunder bolts and black skulls are still seen on the homepage screen of oct26driving.com, with English text at the top of the page reading "Hacked by G6RaaT Hacker ... Freedom for KSA."

Saturdays Arabic text read, "Reason for the hacking: I am against women driving in the land of the two holy shrines," according to Reuters.

As of Sunday, "No Woman, No Drive" viral song has been playing as the background of the hacked site.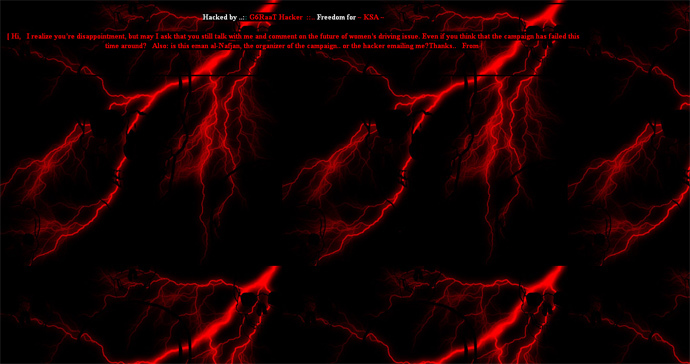 Satirical song goes viral 

A satirical YouTube Saudi adaptation of a famous Bob Marley song has gone viral online with over 2.5 million views in two days.   

"No Woman, No Drive," inspired by Marley's "No Woman, No Cry," was recorded by three Saudis who say that their experience in the West influenced them to come up with the satirical response to the ongoing battle.

"I'm an artist and social activist. I don't really listen to music, but while studying in the US I heard this song by this Jamaican guy that caught my attention. I decided to do my own rendition; with lyrics relevant to my culture," said Hisham Fageeh, known in the Arabic-speaking web for his YouTube videos.

Phrases such as "ova-ovaries all safe and well, so you can make lots and lots of babies," and "you can cook dinner for me tonight" appear to demean women, although its intent may be ironic.

Viewers who mostly found the video funny awarded extra points for the use of a beard as an instrument in the video. 
You can share this story on social media: