One killed, several missing after rare floods hit Saudi capital (PHOTOS)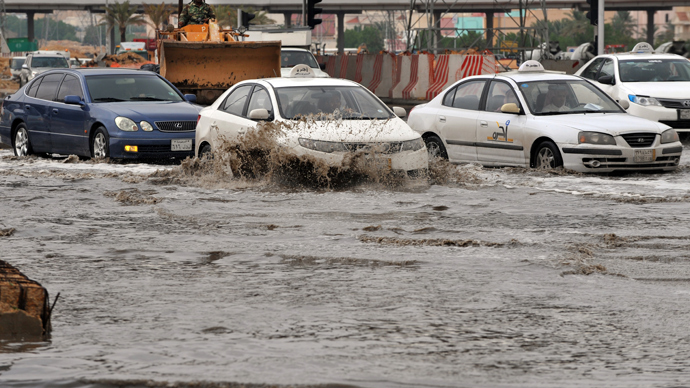 At least one person has died and several others are reportedly missing in the Saudi Arabian capital of Riyadh as a result of severe flooding caused by heavy rainfall. Such floods are extremely rare for the kingdom, which is dominated by desert.
At least four people were reported missing in Riyadh, according to local media. One of them, a 26-year-old Yemeni woman, has been confirmed dead.
The body of the young woman was found in the Wadi Nimar valley, which is surrounded by steep banks and can therefore suddenly fill with water in case of rainfall, Al-Arabiya reported, citing the Saudi Civil Defense authority.
According to Saudi news website Sabq, the woman was washed away while attempting to cross the flooded area. She had been traveling in a car with her father, but they had to stop as it became too dangerous to remain in the vehicle.
The search continues for other people who went missing as a result of the rainfall, which experts have already called the worst in 30 years. 
The Civil Defense Force said it received over 5,000 reports of incidents, including 4,968 in the capital. Almost 100 people trapped by the flooding were rescued, Gulf News reported. Defense teams also recovered 148 vehicles that were submerged under water.
Meteorologists said the rainfall in the central and eastern regions of Saudi Arabia, as well as in some Gulf areas, is expected to last until Thursday. It is believed that the rain – which has continued throughout Saturday and Sunday – will reach its peak at the beginning of next week, particularly in coastal areas between Khafji and Dammam.
The rain triggered flash floods in Riyadh and caused power cuts in parts of the city. Witnesses reported that many nearby shops had also flooded.
Authorities have advised citizens to remain indoors until the floodwater subsides. Schools and universities were closed in Riyadh on Sunday.
Pictures posted on Twitter show cars drowning in rainwater.


It would be a good idea to avoid tunnels in #Riyadh right now... #Floodingpic.twitter.com/aP7NOUh31N

— Abdullah Mohiuddin (@NidalM) November 16, 2013
Breaking news: #Riyadh is now a diving destination.

— Abdullah Mohiuddin (@NidalM) November 16, 2013
The eastern part of the country looks to be hit the most by the rains. 

The government has set up a disaster management center in the holy city of Mecca and is planning to close schools and evacuate people in low-lying areas, Bahrain's Gulf Daily News reported.

#RiyadhFloodpic.twitter.com/OqI7FaEofI

— Jerry Ashar Joel (@asharjoelPTI) November 16, 2013
Rains in the northwest city of Ha'il are expected to flood the Al Adeera valley, according to media reports. 
Meanwhile, witnesses reported that villagers 70 kilometers west of Ha'il were taking shelter on the rooftops of houses, mosques, and even mountaintops as the flooding began.

The desert kingdom has in the past been criticized for its lack of preparedness for such situations, as flooding is rare in that part of the world. 
Residents were killed during flash floods in Riyadh, Baha, and Ha'il on May 13. The rain was reportedly the heaviest in more than 25 years. 
Floods in the port city of Jeddah, located on the Red Sea, killed 123 people in 2009 and 10 others in 2011.
More #Flooding in #Riyadh. They just cancelled schools for tomorrow: pic.twitter.com/WZd8fPde7e

— Abdullah Mohiuddin (@NidalM) November 16, 2013 

What #Riyadh looks like right now: #Floodingpic.twitter.com/4dzyRKYMp1

— Abdullah Mohiuddin (@NidalM) November 16, 2013
Waterfall of rainwater on King Abdullah Rd, #Riyadhpic.twitter.com/pcGD8a0pZ2

— Abdullah Mohiuddin (@NidalM) November 16, 2013
@ArtiJabz here's a better shot! @majeeed52pic.twitter.com/eka6HB6XxM

— Abdullah Mohiuddin (@NidalM) November 16, 2013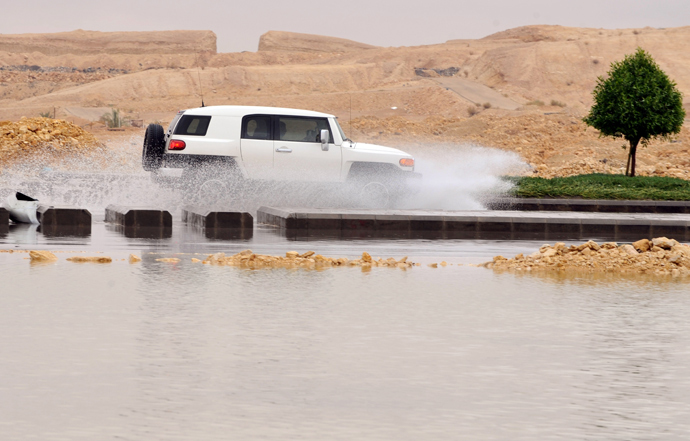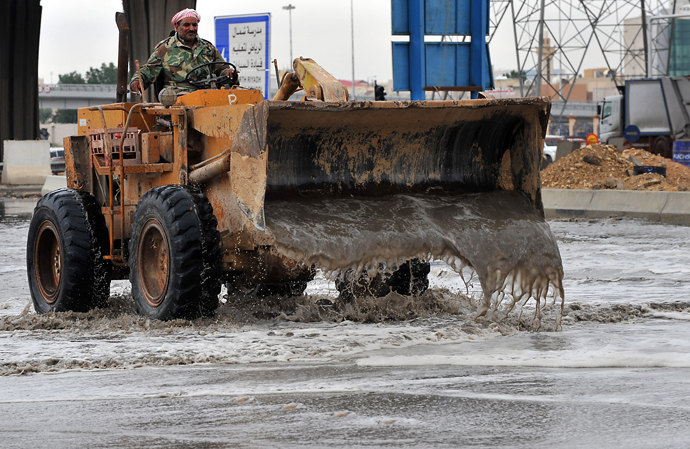 You can share this story on social media: