Saudi women activists get jail time for helping starving mother locked in home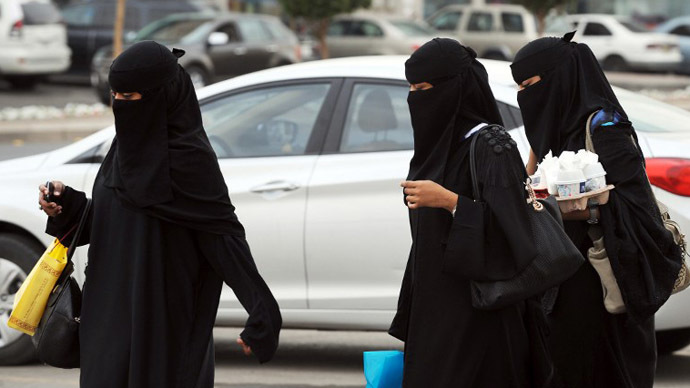 A Saudi court sentenced two women to ten months in prison, along with a two-year travel ban, after they tried to help a Canadian woman who, with her three children, was denied adequate food and water and was subjected to violence by her Saudi husband.
On June 6 2011, the two human rights workers Wajeha al-Huwaider and Fawzia al-Oyouni received a text message from Nathalie Morin, the Canadian woman, saying that her husband had locked the whole family in the house and left for a week-long visit to see relatives in another town while her supplies of food and water were running out, according to Human Rights Watch.

"I cannot help myself and I have no rights in Saudi Arabia. My children are hungry and I cannot do anything to feed them. I'm fighting to get freedom, justice and fairness for my family including myself," Morin wrote on her blog.
The two bought food and came to Morin's house, where police were already waiting for them. The women were brought to Damman station for questioning, where police told al-Huwaider and al-Oyouni they believed they were trying to smuggle Morin and her three children to Canada, Human Rights Center reports.
After the women signed a statement pledging to cease all involvement with the case, the police released them. However, more than a year later in July 2012, authorities called in al-Huwaider and al-Oyouni for questioning, after which the government launched a case against them.

The trial continued for another year, and last Saturday presiding judge Fahad al-Gda'a issued a ruling sentencing the two human rights workers to ten months in prison, imposing an additional two-year travel ban on top of the jail time. The charges were "inciting a woman to flee with her children" and "attempting to turn a woman against her husband." The women were acquitted of charges that they had attempted to smuggle the wife and her three children to the Canadian Embassy in Riyadh.

Al-Huwaider and al-Oyouni plan to challenge the ruling in the Court of Appeals.

The same day the two women issued a statement that when the case was launched, they predicted that the government was trying to punish them for their women's rights activism in recent years.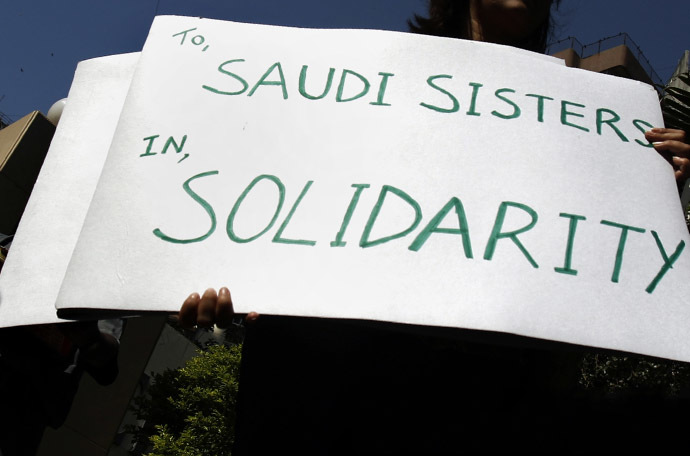 "It was clear to us from the very beginning when we were summoned to the investigation by the prosecutor in Dammam that the issue was malicious and that those who filed this case against us are from concerned authorities that aim to harm and harass us to stop our humanitarian activities, because since the night of the incident two years ago, the case has been revoked by an order issued by the Amir of the Eastern region and the file was closed," they said.

Al-Huwaider said that during her interrogations, investigators did not ask her about Morin's case but rather about her involvement in the Saudi women's rights movement, including questions about the Women2Drive campaign and her relationship with Saudi women's rights activist Manal al-Sharif. Al-Huwaider filmed the latter driving a car, which is illegal in the Kingdom, and posted the video on YouTube. Al-Sharif said later in a lecture in Scotland that followed the publication of that video, she received threats of being raped and killed.
 
Al-Huwaider told Human Rights Watch that during her trial, which began in late 2012, the presiding judge denied her and al-Oyouni the right to adequately defend themselves by refusing to allow Morin to testify. The judge also declined to allow a Canadian Embassy official to attend the second trial session, in December, according to Human Rights Watch.

Al-Huwaider is a prominent activist, author and journalist, a co-founder of the Association for the Protection and Defense of Women's Rights in Saudi Arabia and a member of the Human Rights Watch Middle East advisory committee.

She wrote for the Arabic language daily al-Watan and the English language daily Arab News until May 2003, after authorities banned her from writing or appearing in any local media.

In an article published May 25, 2006 on rezgar.com, she drew a comparison between the lives of the prisoners in the "terrible inhuman prison" camp at Guantanamo Bay in the United States and the lives of Arab women.

 "...Anyone who examines and analyzes the lives of the prisoners in Guantanamo, and compares them to the lives of Arab women - particularly in the Gulf States, and especially in Yemen, Oman and Saudi Arabia - will discover that there are very many similarities... First, in some Arab countries a woman is a prisoner in her [own] home, and can only move with the permission of her guardian, or, more accurately, her jailor. Her situation is similar to that of a prisoner in Guantanamo…"

There is no codified Penal Law in Saudi Arabia, and its legal system is based on Islamic law derived from the Qu'ran and the traditions of the prophet Muhammad. That means that judges and prosecutors have wide latitude to arbitrarily define certain acts as criminal.
 
Saudi Arabia has a "guardianship system" and strict gender segregation rules that limit women's abilities to make decisions and participate in public life. Under this system girls and women are forbidden from traveling, conducting official business, or undergoing certain medical procedures without permission from their male guardians.

You can share this story on social media: