Sarkozy fury over 'Gaddafi millions for 2007 campaign'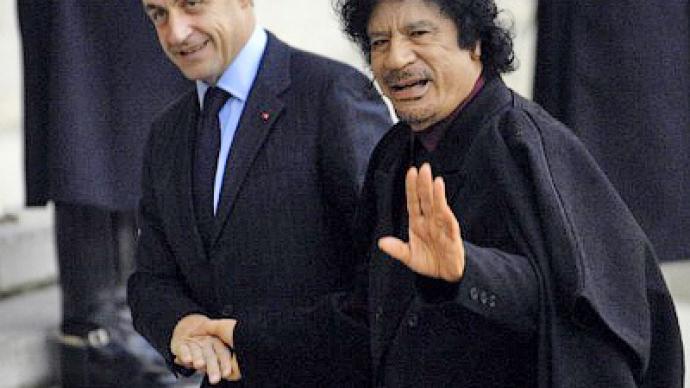 Nicolas Sarkozy lashed out at journalists and rejected claims he took €50 million from Muammar Gaddafi to fund his 2007 presidential campaign before backing an insurgency against him, as documents alleging a money-trail between the two emerged.
"If he had financed it [the 2007 campaign], then I haven't been very grateful," Sarkozy sneered at a TF1 presenter accusing her of sympathizing with the Gaddafis.Libya's late-leader was brutally murdered following a NATO campaign against him led by France and the UK, both of whom had welcomed Gaddafi back into the political fold."Gaddafi, who is known for talking nonsense, even said that there were cheques. Well, then the son should just go ahead and produce them," he added.
The president's fury comes after investigative website Mediapart released a report by French terrorism expert Jean-Charles Brissard. Its claims that Sarkozy secretly received Gaddafi's millions for his previous election campaign are based on court testimony to an arms trafficking probe.The report alleges that French arms dealer Ziad Takieddine arranged the Gaddafi donation channeled via Panama and a Swiss bank account in the name of a sister of one of Sarkozy's key political allies, the head of his UMP party.The deal was said to be reached during one of Sarkozy's frequent trips to Libya as French interior minister, where he met Gaddafi in person.
A memo obtained by Mediapart claims that a meeting on October 6, 2005 resulted in "campaign financing" of "NS [Nicolas Sarkozy]" being "totally paid".Gaddafi's son Saif al-Islam, currently held by Libyan militias, also claims his family financed Sarkozy's 2007 campaign."He's disappointed us. We have all the bank details and documents for the transfer operations and we will make everything public soon," – threatened Saif al-Islam in a TV interview during the NATO-backed military campaign in Libya.
You can share this story on social media: