­Lukashenko's ex-rival sentenced to term in high-security jail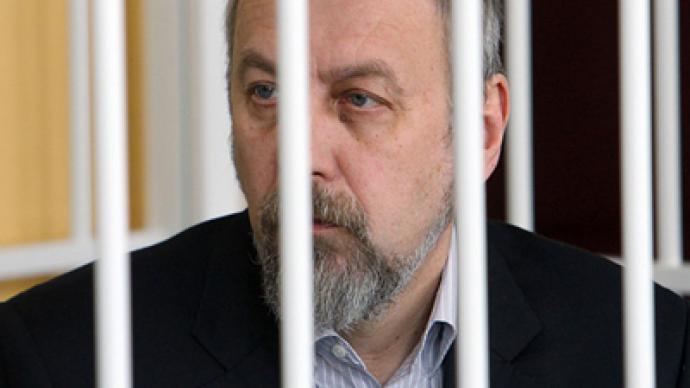 A former Belarusian presidential candidate was sentenced to five years in a high-security prison for organizing a mass protest in the capital Minsk last year. Andrey Sannikov pled not guilty and said the whole case was highly politicized.
He expressed a strong belief that his conviction is revenge against him as an ex-presidential candidate who "was able to put together a powerful team of professionals and declared his readiness to take responsibility for governing the country.""I was, and I remain, an advocate of active measures to change the government, but I am an advocate of nonviolent action," he said.The prosecutor pressed for a seven-year sentence for Sannikov, who was charged with an offense punishable by five to 15 years behind bars."In conspiracy with other persons, Sannikov organized mass riots that involved pogroms, preparations for arson, destruction of property, personal violence and armed resistance to persons vested with authority," the prosecutor told the court, according to the Interfax news agency. "Sannikov had preplanned, and appealed for, action to forcibly seize control of buildings belonging to government institutions."One of Sannikov's defense lawyers, Marina Kovalevskaya, told reporters after the hearing that they consider the sentence "illegal and groundless" and will appeal it within the next 10 days."It has not been proved that there were mass riots in place that meet the interpretation in Article 293 of the Belarusian Criminal Code," she said, as quoted by Interfax. "No convincing evidence was offered that Sannikov had plotted to organize mass riots."According to Kovalevskaya, the court did not satisfy "some requests by the defense that were important for the trial," a violation of procedure that proved, she said, "the one-sided nature of the trial."When the sentence was announced, diplomats from the US, Lithuania and Germany, as well as experts from the Organization for Security and Cooperation in Europe, were present in the courtroom.Last December, opposition supporters held a 1,000-strong demonstration to protest what they called the rigged re-election of President Aleksandr Lukashenko. The unrest was violently suppressed by riot police.  More than 600 people were detained, and dozens injured by rubber bullets.Altogether, 25 people have been convicted in connection with December's protests.The EU strongly condemned the violence and imposed sanctions on the president, whom many dub "the last dictator" of Europe.
You can share this story on social media: