El Salvador woman denied life-saving abortion by highest court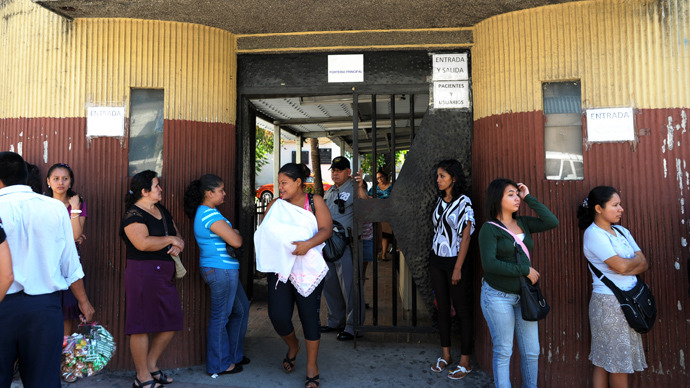 The country of El Salvador is currently gripped by the story of a woman seeking permission for an abortion, a procedure doctors believe would be life-saving, and which is illegal in the conservative nation. Instead, induced birth will be performed.
A woman going by the name of Beatriz to keep her identity a secret lost an appeal filed by her lawyer, Victor Hugo Mata, with El Salvador's supreme court on Wednesday.
"They [the Supreme Court] were not convinced this is the way... they are saying Beatriz is not in danger and she must pursue the natural way of delivery and we must see what happens," said Mata in comments to CBS News.
"It isn't just an abortion, it is a necessity," he added.
Beatriz suffers from lupus, an autoimmune disease which in her particular case is aggravated by a kidney malfunction. Beyond the health risks for Beatriz should the pregnancy be allowed to continue, doctors have also determined that she is carrying an anencephalic fetus, meaning the baby lacks the majority of its brain and would be expected to survive only for perhaps a few hours post birth.
According to CBS News, three separate sonograms carried out by the National Maternity Hospital, where Beatriz is being treated in the country's capital of San Salvador, have shown that she is pregnant with an unviable fetus. The fetus is now 26-weeks-old.
"The baby will only live a couple of hours because he has no brain, no mental activity. The baby is in very bad condition, no future to live. They [the doctors] must intervene as soon as possible, if they don't make an incision in the womb, she might die very soon," said Mata.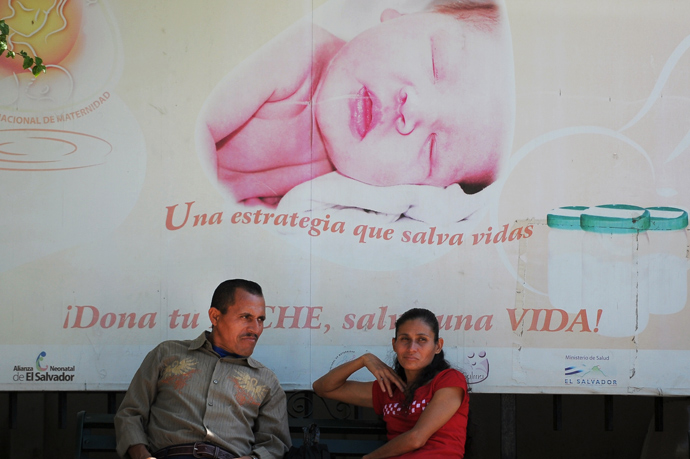 El Salvador prohibits all abortion under any circumstances, including rape and incest. The country's constitution in the majority Roman Catholic nation protects the right to life "from the moment of conception."
Though a medical committee at her hospital, as well as the country's Ministry of Health supported Beatriz's request for an abortion, judges with El Salvador's highest court voted four-to-one to reject the petition.
"This court determines that the rights of the mother cannot take precedence over those of the unborn child or vice versa, and that there is an absolute bar to authorising an abortion as contrary to the constitutional protection accorded to human persons 'from the moment of conception'," determined the court.
Both the doctors who perform abortions in the small Central American country of six million, and mothers who seek the procedure face arrest and criminal charges. According to the Central American Women's Network 628 women have been imprisoned in El Salvador since its anti-abortion law was enacted back in 1998. According to a 2012 report provided by that group, 24 of those women were indicted for "aggravated murder" following an abortion, miscarriage, or stillbirth.
Morena Herrera, an activist and former guerilla member with the Farabundo Martí National Liberation Front, called the court's ruling "irresponsible."
"The only life we can save here is that of Beatriz," Herrera told the BBC.
Herrera said supporters would look into getting Beatriz out of El Salvador so she could receive the treatment they said she needed. However, on Thursday it appeared that the country's government had softened its line by announcing that Beatriz would instead be allowed to undergo a premature caesarean section.
Health Minister Maria Isabel Rodriguez said that the premature delivery was now in "in the hands of high-level doctors."
"It is very clear at this time that the pregnancy intervention is not an abortion, it is an induced birth, which is something else," Rodriguez said via news conference.
Abortion procedures are banned throughout seven countries in Latin America, including Nicaragua, Honduras, the Dominican Republic, Haiti, Suriname and Chile. As a result, the percentage of unsafe abortions in South America and Caribbean nations is extremely high, currently at 95%.
Within Mexico only Mexico City currently has legal abortions during the first 12 weeks of pregnancy, while countries such as Argentina will allow abortions in cases of rape or a threat to health. Only the countries of Cuba, Guyana, Puerto Rico and Uruguay currently allow abortions beyond cases of rape, incest or threats to a woman's health.
"We cannot appeal the case because this was the last step, the Supreme Court," said Victor Hugo Mata on Wednesday.
"The only way now is to go to the international courts. Everyday, the health of Beatriz is [getting] worse. If they wait another week or two weeks, she will be too feeble to endure the operation," he added. 
The archbishop of San Salvador, Jose Luis Escobar, had asked the court several times not to allow the woman to have
an abortion according to Agence France-Presse, arguing that it would lead to an increase in such requests.