Salaries as big as their heads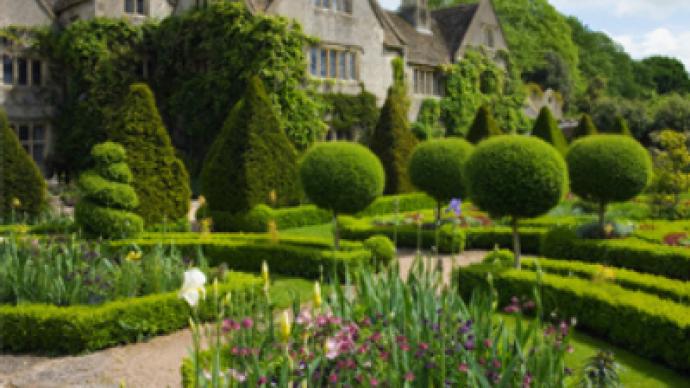 Forget trophy wives. It's all about big houses these days. And few places can match the mansions which increasingly grace South Manchester's countryside.
That's a physical proof of how far the salaries of Manchester United's footballers have soared in recent decades.
Manchester United… you either love them or you hate them. Although when you see their houses, bragging boulevard-sized driveways swathed in Bentleys and Jags, but concealed behind an imposing eight foot security gate, ostentatiously erected to thwart the prying eyes of the paparazzi, you are inclined to feel for the latter, provoked of course by pangs of jealousy.
Perhaps the most elaborate house in Prestbury, currently the chicest village in the "Gold Trafford" circle, unsurprisingly belongs to Mr and Mrs Rooney. Veiled behind a mesh of dauntingly tall fences, security cameras and many of Prestbury's leafy old trees, this three-storey, multi-million pound mansion embraces neo-Georgian pillars, six en-suite bedrooms, an indoor pool and cinema and three garages.
It is fortunate that this house, whose size rivals that of stately homes, is masked behind a shield of both natural and man-made objects. Few would refer to the building as tasteful and many would say it disturbs the natural fabric of the historical, old-English village.
And purchases like this tend to have a snowball effect, as many of Rooney's teammates have also chosen to reside in this idyllic rural locality and erect glamorous new "trophy homes". Wes Brown recently turned down two-million-pound "Bentley House", an impressive three-storey mansion in Prestbury, which keeps his property portfolio in the village down at just one. These affluent Cheshire towns such as Wilmslow, Hale, Prestbury and Alderly Edge, which have pertinently been labeled "Gold Trafford", have been made infamous and arguably even more prosperous by the arrival of players from one of the biggest football teams in the world.
In the late 1940s, Salford-born Don Whitehead used to play for the MUJACs, Manchester United's Junior Athletic Club. The 76-year-old who now lives in Wilmslow, in the "Gold Trafford" circle, remembers Brian Birch who played with him at Salford Boys in the 1940s. Birch went on to sign for Manchester United where he had a successful career as a midfielder. Whitehead remembers bumping into the midfielder after he had just returned from a tour of North America. The ex-Man United youth player peevishly recalled, "Dressed in cowboy boots and a cowboy hat Birch complained bitterly to me of only being paid £20 a week by Manchester United. I was earning 29 shillings and sixpence a week as a metalworker apprentice and I remember thinking at the time that Brian Birch was 'a right old bighead'".
Although £20 a week in the 1940s was considered a large amount of money, it is not today's equivalent of £120,000 a week, the sum Carlos Tevez is reportedly earning after agreeing to stay at Old Trafford. Tracing Manchester United football player's property purchasing habits since the 1960s highlights just how dramatically their earnings have risen during the last 50 years. They are not just keeping pace with inflation.
In the 1960s Manchester United had all the success and attraction they enjoy today, boosted particularly in 1968 when they were the first English club to win the European cup. But whilst the Busby Babes may have been elaborate on the pitch, they did not have the houses to match.
The Quadrant area of the working-class town of Stretford, a stone's throw from Manchester city centre, was the popular choice of residence of these football stars of the 60s. Bill Billington has been a resident of the Quadrant neighborhood for over 50 years, and in the 60s shared the vicinity with Manchester United's Shay Brennan – the Wes Brown of today – and midfielder Paddy Crerand. Laughing nostalgically, the Manchester United fan spoke of a particular occasion in his local The Quadrant pub in 1963 when United had been beaten by Arsenal by two goals to three. Denis Law, the "king of Old Trafford", who had been signed to United for a record breaking £119,000 – a figure his present counterparts now receive in a week – was enjoying a pint in the pub with teammate Bobby Charlton. Bill Billington fondly reminisced,
"I couldn't believe it when my mate said to Denis Law 'we haven't won a thing since signing you!"
Mixing with ordinary people and drinking in locals is something the football stars of today rarely do. In the 60s they had a "normalness" that could also be found in their houses. However pleasant and polished the semi-detached houses in the Quadrant are, they do not exactly possess the grandeur and stateliness of Rooney's fortress. Unpretentiously normal Ryebank Road in Stretford reflects the sensational Busby Babes of the 60s, un-sensational houses and salaries to match.
Perhaps it was Manchester United's most legendary icon that broke away from the regular residential habits of his teammates, by purchasing a swish and swanky property in Woodford, a pastorally attractive area of Cheshire. George Best was never one to conform to normality and his house in Woodford during the 1970s reflected his extravagant personality with its enormous glass doors, towering steal fence and swimming pool. Although compared to the players of today, even the late wayward legend's home could be considered relatively humble.
Ron Atkinson's United of the 80s saw a few players moving deeper into the heart of Cheshire and discovering the flush and fruitful Prestbury. Although it did not have the same exclusivity that it does today, Prestbury has always been a wealthy suburb and in the late 70s and early 80s Manchester United's star striker Joe Jordan, with his infamous toothless scowl, owned a nice but modest detached house there.
This "modesty" can be traced back to the 1990s when a younger Alex Ferguson first made his presence felt at the club. During this decade, a novel, little housing estate in Cheshire's blossoming Bramhall was the fashionable place for the players to live and housed almost half the Manchester United team. Peter Schmeical, Paul Ince and captain Steve Bruce all owned houses on the modern and affluent estate, which had two fake security men stationed either side of the entrance. Although these big detached houses were extremely grand and impressive, compared to "Rooney's Palace", they were submissively bland.
So when did footballer's salaries reach the dizzy heights that could rival the flamboyant pillars of their houses? And exactly how much money are these players bringing home each month?
The amount of money football generates has drastically shot up, especially it seems within the last decade. At the beginning of the 1990s, Manchester United's chairman, Martin Edwards, was near to selling a controlling share in the club for a measly £10 million. Ten years later, the media mogul Rupert Murdoch was prepared to give £600 million for the super club.
According to the Annual Review of Football Finance, the average wage pf a football player increased by nine per cent during the 2005/06 season – a rise that is blatantly not in keeping with inflation.
During this season the English Premier League generated the greatest revenue of all football leagues in the world. Mainly through broadcast rights and global marketing, the English premiership is the richest league in the world. Like the American Football League did in 1994, the Football Association has warned a salary cap may need to be enforced in English football.
During the past two years there has been 12 percent annual growth in the wages of football players and the FA's chairman Lord Triesman believes wage levels have damaging consequences on English football and given the current global credit crisis, may no longer be sustainable.
Last year a Portuguese financial website published the top 50 highest earning footballer players in the world. Predictably, the English, Spanish and Italian clubs dominated the list. AC Milan's Ricardo Kaka was reported to be the highest earning player netting an astonishing 9,000,000 euros a year. Superrich club Chelsea had four of their players feature in the top ten and Manchester United's richest player was reported the tenth highest earning football player in the world and was unsurprisingly Christiano Ronaldo. In 2008 the Portuguese superstar earned 640,000 euros a month, which equates to 7,680,000 euros a year in gross wages alone, not including any earnings from sponsorships or advertising. Two paces behind him in 12th place was teammate Wayne Rooney who last year brought home a monthly wage packet of 610,000 euros, a staggering 7,320,000 euros a year.
It is little wonder therefore that Wayne and Colleen can afford to have a comfortable five-bedroom family house in Prestbury demolished and brazenly replaced with a monstrously imposing mock-Georgian manor.
Are today's players so undeniably "gifted" that they deserve such a colossal salary? England's Sports Minister Gerry Sutcliffe was recently criticized for referring to John Terry's salary as "obscene". Chelsea's billionaire boss defended his captain's salary, saying:
"There's so much more money coming into the game, surely it's only fair the players get a share of it?"
Manchester United manager Sir Alex Ferguson also disapproved of Sutcliffe's comment and argued that other sportsmen and women also receive very high salaries but they do not seem to create the same level of debate and condemnation. According to Sir Alex,
"It is very easy to say that footballers get paid too much. In some cases I would not argue with that. However there are also some tennis players who get great sponsorship deals but never win a tournament."
And not winning tournaments is one thing Manchester United cannot be accused of. Whether or not their mansions are as glittering as their football is questionable.
Today, the finances of football have changed enormously and top footballers are considered in a different light than they were 30 years ago. Through advertising and sponsorship, some players become "brands", namely David Beckham. The only player that came close to this level of notoriety was of course George Best.
World-class players have been elevated to superstar status and the likes of Wayne Rooney, a kid with working class roots who has become a millionaire before reaching 25, is going to live in the most "glamorous" house money can buy. And it is because of their multi-million pound salaries, which seem to be growing every week, that more and more "Rooney-type" haciendas are sprouting up across the plain lands of Cheshire and beyond.
You can share this story on social media: