"Saakashvili has basically endorsed dictatorship" – Georgian opposition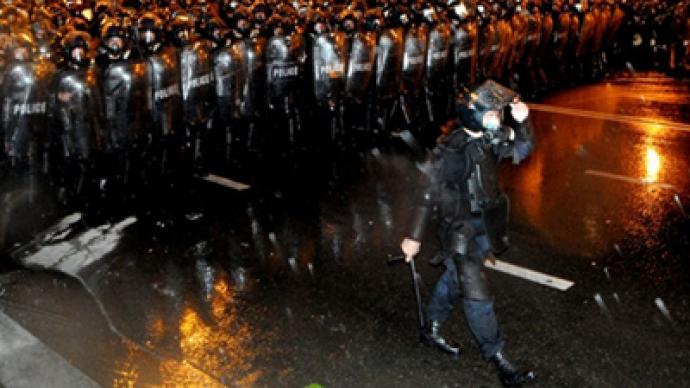 Georgia's opposition is claiming Mikhail Saakashvili's government is underplaying how many people were hurt in a violent crackdown on protests on Thursday night.
Dozens remain in the hospital, and many, including some top opposition figures, are missing.RT's Sara Firth has been covering events in the Georgian capital, and she shared first-hand details of what has been happening in Tbilisi.The crackdown on opposition continued after the demonstration in Tbilisi was dispersed. On Thursday, there was a heavy military and police presence on the streets of Tbilisi, and some streets were closed, Firth reported.The son of opposition leader Nino Burjanadze passed a text to RT's crew in which he declared that the situation is really very serious. There are a number of people, including opposition leaders, who are missing, some people are still being arrested, and the opposition has been fully silenced by the Saakashvili government, Firth said."Witnesses and even policemen say many people have been beaten to death, some of my friends have been arrested, there are dozens of opposition supporters that I can't reach, and eight of my friends have simply disappeared," said Anzor Burjanadze, who was with his mother at a rally in the center of Tbilisi."I cannot meet with reporters," reads the text passed on by Burdjanadze's son. "Almost all Burdjanadze's bodyguards and most of her supporters have been arrested. One of the opposition leaders, Irakly Batiashvili, is missing. They arrest everybody who dares to call Burdjanadze. [President] Saakashvili has basically endorsed dictatorship." RT's crew attempted in vain to contact Anzor Burjanadze by phone to verify authorship of the text, but it seems like the opposition is too scared to speak to journalists openly.Firth observed all five days of protest in Tbilisi, and noted that the Georgian opposition seems very much confused and fragmented. The number of people participating in protests has been lessening every day, as the leaders of different opposition groups have failed to communicate and present a united front.The chaotic and disorganized atmosphere certainly affected the turnout. Even on Wednesday morning – when the demonstrators, led by Nino Burjanadze, numbered in the thousands – as soon as rumors began spreading about the authorities preparing a crackdown, the number of protestors started to decrease. Still, when police started the assault, it put the demonstrators in a state of shock.The number of riot policemen and the cruelty they dealt with people on the streets was excessive in the eyes of everybody who saw it. Tear gas and rubber bullets were flying in all directions, hitting each and all.Everybody who had the misfortune to be on Freedom Square inTbilisi that night was fair game for the policemen clubbing the crowd – including women, elderly protestors, journalists and their cameramen.As RT's crew was leaving Georgia on Thursday evening, they witnessed a strong police presence on the streets. The exact number of people injured in clashes and arrested remains unknown.
The Georgian Foreign Ministry says it has proof that the country's opposition leaders planned to arm protesters to forcefully oust President Mikhail Saakashvili.Georgian opposition leader Nino Burjanadze says the accusations are baseless, and that the protesters' actions were legitimate."I tell you unequivocally: yes, we will continue fighting," she vowed. "I will fight even harder so that the dictatorship will end and democracy will be established in this country. Saakashvili needs those games and nonsense to justify his dictatorship. We said that our strength is in our people. And together with the people we planned – quite legitimately – to use our strength to make Saakashvili step down." "It's legitimate," she continued "And moreover, today it's our duty, because Georgia now resembles North Korea, where people disappear, where people are beaten up, brought to the hospital, then taken back to prison and beaten up again and brought back to hospital, and where relatives cannot visit patients in hospitals. That's the kind of democracy we live in."
You can share this story on social media: