Beaten Russian student faces lengthy recovery in Canada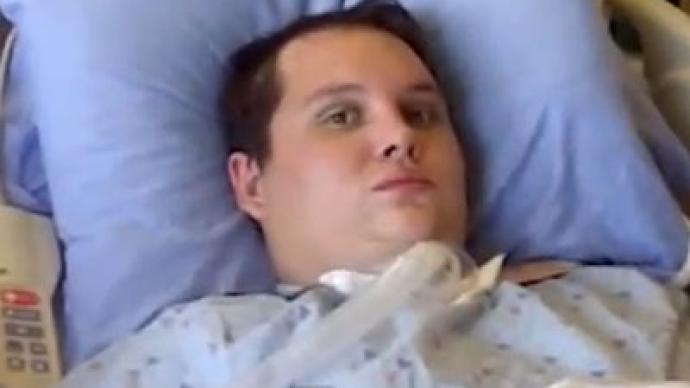 The Russian Foreign Ministry has demanded that Canada prosecute those responsible for a brutal attack on a Russian student in Calgary which left him with severe brain injuries.
Denis Telyakov, 24, has been in hospital since August 20 after he was brutally beaten by two inmates in a holding cell of the Calgary Remand Center. He was arrested two days earlier for allegedly uttering threats – a charge that has since been dropped, according to the Russian Foreign Ministry.Telyakov's sister, Elena Romanova, who is currently in Calgary, says a male student at an ESL [English as a Second Language] school where her brother was studying misunderstood his innocuous remarks and called police.Denis Telyakov arrived in Canada in June to learn English."Such a thing could happen to any visitor to Canada who is not an advanced English speaker. Immigrants and tourists can easily find themselves in jail just because they are misunderstood or their intentions are misinterpreted," Yury Rogovik, leader of the Russian community in Calgary, told Life News.An investigation is currently underway, but Canadian authorities have so far not released any details of the assault, other than saying Telyakov was sharing the holding cell with two 20-year-old men. The attackers apparently jumped and stomped on his head, leading to severe brain injuries that put him in a coma for several days. According to the victim's sister, they carried on even after knocking him unconscious.Romanova says her brother still remains sedated, but can now follow simple commands, squeeze her hand and occasionally open his eyes.Doctors have told her that Telyakov's memory may not be as damaged as initially feared, but there are still concerns about his balance and motor skills."It is still so far from any positive or negative prognosis," she said."That my brother fell victim to a crime should be blamed on the local authorities," she adds.Telyakov's sister says it is still uncertain who will pay the medical bills, while the Russian community in Calgary has called on the Diaspora to donate money to help cover his treatment and recovery.Romanova also says her brother's travel insurance will be sufficient to cover only part of the costs.
You can share this story on social media: