Russia's parliamentary elections: LIVE Updates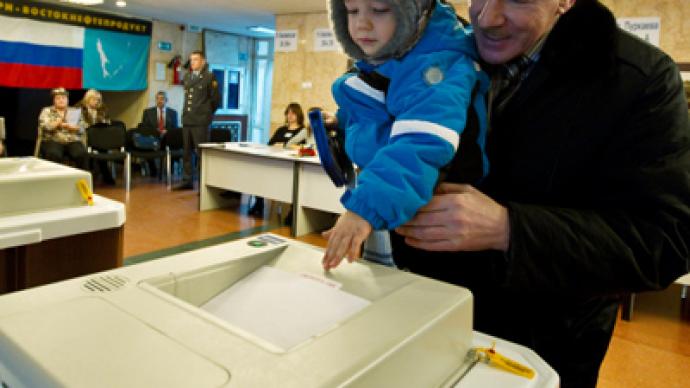 22:25 MSK: United Russia will have to form a coalition with other parties, says Russia's President Dmitry Medvedev.
22:20 MSK: Election results reflect the actual situation in the country and provide for the stable development of the country, says Russian Prime Minister Vladimir Putin as reported by RIA Novosti news agency.
22:00 MSK: United Russia – 45.83 per cent, the Communist Party – 20.27 per cent, Fair Russia – 13.3 per cent, the Liberal Democratic Party of Russia – 14.42 per cent of votes, says the Central Election Commission after counting 15 per cent of ballots.
21:02 MSK: The Communist Party (19.8 per cent), the Liberal Democratic Party of Russia (11.42 per cent) and the social-democratic party, Fair Russia, (12.8 per cent) will also enter the Duma, reports RIA Novosti according to exit polls.21:01 MSK: United Russia is leading but has lost its overall majority, says the All-Russian Center for the Study of Public Opinion. Exit polls suggest the party is coming in with 48.5 percent. 21:00 MSK: Voting in Russia is over. At 21:00 Moscow time, the last voting stations were closed in Kaliningrad region on the Baltic Coast.
20:20 MSK: More than 100 opposition supporters have been arrested in central Moscow while protesting, reports RIA Novosti news agency. 19:59 MSK: Moscow is casting last minute votes.19:45 MSK: Several voting stations in Moscow and St. Petersburg have run out of ballot papers.19:43 MSK: CIS observers have not revealed any violations in Sunday's voting, the Inter-Parliamentary Assembly told Itar-Tass news agency. Forty-one monitors from the CIS have been surveying procedures in six federal regions of Russia.
19:15 MSK: Over 50 per cent of voters have cast their ballots, with the turnout in Chechnya at 94 per cent, reports RIA Novosti news agency.18:49 MSK: Russia's Siberia has completed its voting.18:33 MSK: A 109-year-old woman has come to cast her vote in the North Caucasus region, says ITAR-Tass news agency.18:17 MSK: Several opposition members tried to set off smoke grenades in front of the Ministry of Economic Development in Moscow and were seized by police, reports Interfax news agency.18:02 MSK: The ballot-casting tide has shifted to US shores, while leaving the Novosibirskaya and Irkutskaya regions in Russia's Siberia.17:53 MSK: "Leo Tolstoy" polling station, not far from the writer's birthplace, is popular in the Tula Region, central Russia, with many voters making a special journey to cast their ballots there. 17:41 MSK: Stuffing of some 3,000 ballots has been prevented at Moscow polling station 2945, claims Gazeta.ru newspaper. The ballots were allegedly ticked in the "United Russia" field.17:30 MSK: Almost 42 per cent of voters have turned out by 17:00 MSK, nearing the figures of the 2007 parliamentary election, says the Central Election Commission.17:20 MSK: A fight between a member of the CEC and parliamentary candidate has flared up at a polling station in Moscow, reports RIA Novosti news agency.17:01 MSK: The Central Election Commission (CEC) has received 68 complaints on possible violations in the elections; almost one third of them are reporting inappropriate actions of polling station commissions. The NGO association Civil Control says they have received over 300 reports – 32 of them have been confirmed.16:50 MSK: Russian polling stations in China have finished their work. Some 1.7 million Russians living abroad can use their right to determine how their motherland will be getting on in 2012-2016.16:20 MSK: Residents of Novosibirsk, a prominent city in Siberia, complain receiving text messages with calls to give theirs votes to the social-democratic party Fair Russia. The local CEC has requested law enforcers to find the messenger as campaigning is forbidden on Election Day, reports RIA Novosti news agency.16:02 MSK: Russian polling station in San Francisco will be the last point abroad to admit ballots. It will close at 08:00 MSK Monday. So far, Russian distant polling stations have been working without incidents, reports the CEC.15:45 MSK: Moscow polling station number 2449 has been evacuated because of a bomb threat, reports Interfax, citing the press service of the Yabloko party.15:29 MSK: Several rallies in support of participation in elections have been held in Moscow. Nearly 15,000 youth activists have gathered in Russia's capital to express their position.15:18 MSK: Over 90 per cent of inmates have cast their vote in Russia's parliamentary elections, the Federal Service for Execution of Punishment reports.15:05 MSK: Police have detained 15 supporters of the elections boycott who were protesting at the Manege Square in central Moscow.14:57 MSK: A man called the hotline of the Association for the Protection of Voting Rights "Civil Control". He said his name Monomakh Dolgoruky, then threatened to "fire each and every" member of the CEC. His full name was apparently "Dolgoruky Monomakh George the Fifth Nikolaevich." His royal highness required an absentee certificate "or else."14:47 MSK: Russian cosmonauts Anatoly Shkaplerov and Anton Ivanishin have voted on board the International Space Station, a representative of the Mission Control Center said Sunday14:37 MSK: The voter turnout so far is at 25.4 per cent of eligible voters, the CEC confirms.14:32 MSK: The mayor of Vladimir, Sergey Sharov, reports an attack on a polling station. No details available at this time.14:13 MSK: Prime Minister Vladimir Putin has voted in the State Duma elections. He had mentioned that on Election Day he is always in a very good mood.13:54 MSK: AP and Moscow News photographers, along with a BBC cameraman, have been detained at polling station number 686 in Moscow for "photographing voters' personal data".13:39 MSK: Queues are forming at the polling stations in St. Petersburg.13:35 MSK: A 106-year-old voter has cast a ballot in the Tula Region.13:22 MSK: Polling stations have now closed on Kamchatka, where it is already after 8 pm.13:14 MSK: In Novokuznetsk, observers from the opposition have been removed from the polling stations for alleged violations. They have been accused of blocking ballot boxes and were removed by police officers.13:05 MSK: About 4,500 Russian voters are centenarians, says a member of the CEC Nina Kulyasova.12:50 MSK: Elections in Russia are held to a very high standard, says Ruhama Avraham, an observer from Israel and a Knesset member.12:46 MSK: Russia's Ministry of Internal Affairs had just reported that Sunday night at around 2 am in Bryansk a Molotov cocktail was thrown into the window of the United Russia party's local office.12:26 MSK: A resident of Omsk has died at a polling station.12:19 MSK: Police have tightened security in Moscow in connection with the State Duma elections.12:17 MSK: Several Russian media websites which exposed violations in the parliamentary elections went offline due to the hacking attack. Representatives of the media say the attack is aimed at preventing them exposing the fraud at the elections.12:15 MSK: In Russia's Altai Region 10 members of the "Polar Bears" winter swimming club have come to cast their votes in shorts and bathing suits.12:14 MSK: An innovative approach is being used in Tyumen to attract locals to the polls. Tyumen city charity organized a lottery in which electors can win an apartment or a car if they show up to vote.12:05 MSK: The Electoral Commission website in the Sverdlovsk Region has been attacked by hackers, reports Interfax. Due to the attack, at the time of writing the site was unavailable for viewing. A spokesman for the commission said it was difficult to estimate when the connection will be restored.12:01 MSK: Three criminal cases have been launched and 216 administrative reports compiled of violations of the electoral law, according to Russia's Ministry of Internal Affairs.11:52 MSK: In St. Petersburg, journalists are being prevented from accessing the polling stations and banned from photographing. Fontanki.ru journalist Dennis Sadowski was stopped by the members of the Election Commission when trying to enter a polling station on Serebristy Boulevard with a camera. A similar case occurred with a photographer for the Rosbalt news agency, Olga Goryanin, earlier in the day.11:37 MSK: International observers have no objections to the electoral process in Russia, an international observer from Poland told RIA Novosti Sunday.11:30 MSK: Russian citizens can cast their votes in Belgium at two polling stations at the Russian Embassy in Brussels and at the Consulate General in Antwerp.11:04 MSK: Nearly 700 international observers are working at the polling stations in Russia's regions, where a total of 78 per cent of voters will cast their ballot, according to the deputy chairman of the CEC, Leonid Ivlev.10:50 MSK: Fancy ballot boxes have been installed at the polling stations in Tula region; they are made of the famous Tula gingerbread or 'pryanik'. This was reported today by the chairman of the Russia's CEC Vladimir Churov.10:31 MSK: At the Central Electoral Commission (CEC) building an Information Center "Elections 2011" has started its work. Two thousand Russian and foreign journalists got their credentials for working at the center. 61 TV correspondents, 26 radio reporters, 30 news agencies and over 40 print media will be covering the State Duma elections, according to the CEC spokesperson.10:22 MSK: Russian President Dmitry Medvedev and his wife Svetlana arrived at a ballot station located in Moscow School No. 1118. The president had previously voted here during the regional parliamentary elections of 2009.10:05 MSK: A polling station has opened in Sudan, located at the Russian embassy in Khartoum.10:00 MSK: Five per cent of Russians have so far cast their votes.09:55 MSK: Voting for the State Duma elections is being held in Thailand at two polling stations. One is on the premises of the Russian embassy in Bangkok and another at the Honorary Consulate of Russia mobile polling booth, which is stationed at the Royal Cliff hotel in Pattaya. At the moment in Bangkok more than 70 people have voted, and over 50 in Pattaya .09:20 MSK: Seven voting stations have opened for Russian citizens in Belarus. The Minsk polling station is located on the territory of the Russian Embassy. Another is in the city of Brest, on the territory of the Consulate General.09:00 MSK: Polling stations have opened in the Russian exclave of the Kaliningrad Region. As of now, all voting stations are open throughout the country, which spreads over nine time zones. The Kaliningrad Region began voting an hour after Moscow and nine hours after Chukotka and Kamchatka.08:20 MSK: Electronic voting systems are being used in Abakan, the capital of Khakassia , for the first time in the history of elections in the region, according to secretary of the regional election committee Vladimir Togochakov.08:00 MSK: Three thousand three hundred and seventy-four polling stations have opened in Moscow on December 4, mostly located in schools. Citizens can also cast their votes at railway stations and hospitals.08:00 MSK: Ballot stations open in the European part of Russia including Moscow. 07:40 MSK: In the Amur region almost 20 per cent of voters have cast their ballots in the first four hours of the polls, the regional Election Commission reports.07:23 MSK: United Russia reports its office building in the city of Bryansk, Western Russia, has been attacked. According to the report on the party website a group of people attacked their office with petrol bombs causing a fire.06:30 MSK: "Golos" (Russian for "voice" or "vote") NGO is claiming that its observers have not been allowed to attend voting at several ballot stations in the city of Tomsk, Western Siberia. According to "Golos" the Election Commission representative at the stations say they have been instructed by telephone not to allow "Golos" observers in.06:15 MSK: Witnesses in the city of Khabarovsk report that some parties are still distributing their election materials in the streets thus violating election law. The Liberal Democratic Party, the Fair Russia Party and the Communist Party are named as violators.06:05 MSK: The rest of Western Siberia and some parts of the Ural region are opening ballot stations for the voters.05:40 MSK: Almost 14 per cent have voted in the Kolyma region in the first four hours of the parliamentary elections, a spokesman for the Election Commission reports. 05:26 MSK: The turnout in the Primorsky region, where 6 per cent of voters arrived in the first two hours of polling, is lower than in the parliamentary elections of 2007, says the regional Election Commission.05:00 MSK: Ballot stations are opening in some parts of Western Siberia including the Novosibirsk, Altai and Omsk regions.04:25 MSK: Russia`s first vice-premier, Igor Shuvalov has cast his vote on Russky Island in Vladivostok, Russia`s Far East, his press service reports.04:15 MSK: The Election Commission reports that in the Chukotka region more than 22 per cent of registered voters have shown up during the first two hours of the elections.04:00 MSK: The Krasnoyarsk region and the republics of Khakassia and the Tyva open ballot stations.03:31 MSK: According to the Election Commission, voters from northern regions of Russia`s Far East are voting more actively than in the parliamentary elections of 2007. The commission also says that "the elections are taking place in a quite atmosphere" and that no violations have been reported so far.03:15 MSK: In the Kolyma region more than 6.5 per cent of voters have cast their votes in the first two hours of polling, the local Election Commission reports.03:01 MSK: More of Eastern Siberia begins voting. Ballot stations are opening in the Irkutsk region and the Republic of Buryatia. 02:33 MSK: Witnesses from the city of Khabarovsk report that despite the early hour there are a lot of voters at ballot stations.02:00 MSK: Ballot stations are opening in Eastern Siberia including the Amur region and Yakutia.01:36 MSK: Sakhalin Election Commission confirms that 316 ballot stations are currently functioning on the islands and 142 additional ballot stations are situated on vessels sailing in Sakhalin waters.01:03 MSK: Russia`s Far Eastern regions begin voting. Ballot stations are opening in the Khabarovsk region, the Primorsky region and the Sakhalin region.00:01 MSK: 57 ballot stations are opening in Chukotka in Russia's Far East.00:00 MSK: Hello. It is December 4 – the day of Russia's parliamentary elections. Seven political parties are competing for seats in the sixth State Duma. Stay tuned for the latest updates.
You can share this story on social media: