US probe 'rules out' negligence in Russian orphan death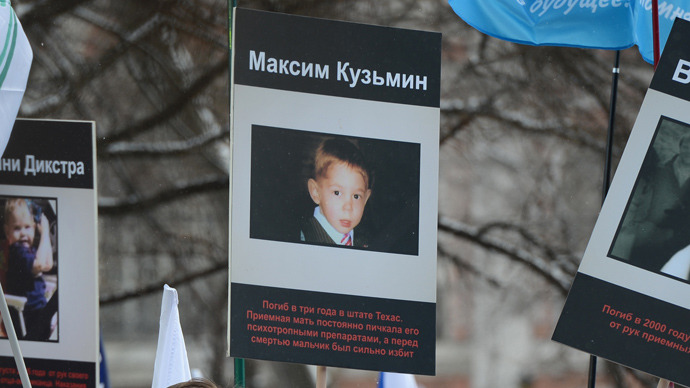 A US investigation into the death of Max Shatto, born Maksim Kuzmin, found no wrongdoing on the part of the three-year-old Russian orphan's adoptive America parents, media report.
Investigators believe that the boy's death was result of an accident rather than negligence or mistreatment in the family, reports ITAR-TASS. The agency was citing Olga Tarasova, an activist from the US-Russian Civil Society Institute, an NGO working closely with the Russian community in the United States. The probe was conducted in tandem by the local sheriff's office and social security service.
Apparently the US authorities will now resist Russia's effort to retrieve Maksim's two-year-old brother Kirill, who remains in the custody of the Shatto family.
The death of Maksim in January sparked the tensions between Russia and the US over the fate of Russian orphans adopted into American families. Moscow suspected that the boy may have been abused in the US and demanded inclusion in the investigation.
The issue has become highly politicized since Russia banned all adoptions to American citizens in December last year, citing several cases of lenient reaction of US authorities towards the deaths of Russian adopted children.
The ban was linked to the December issuing of sanctions by the US against some Russian officials, whom Washington suspects of human rights violations. The so-called Magnitsky List currently includes 18 individuals who are allegedly responsible for the death in police custody of lawyer Sergey Magnitsky and other crimes. It may be expanded in the future and reportedly contains a classified portion that was not made public.
The sanctions infuriated Russia, which saw it as an attack on its sovereignty.