Adopted Russian child suffered repeated bruises before death – autopsy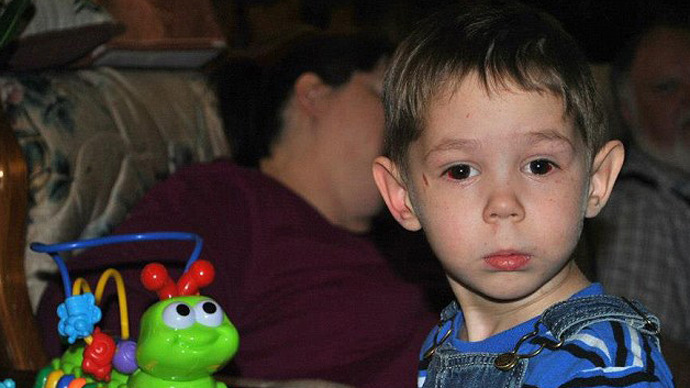 The autopsy report of 3-year-old Russian boy Maksim, who was adopted by a Texas couple, has concluded that the child had more than 30 bruises on his body and other signs he was routinely injured; his stepmother claimed the boy hurt himself.
The report maintains that the medical examiner found abrasions, scrapes and bruises in various stages of healing all over the boy's body, including his genitals, which the boy acquired some time before he was pronounced dead. Max Shatto, born Maksim Kuzmin, died on January 21 after his adoptive mother Laura Shatto found him unresponsive outside their home in Gardendale, Texas.
The autopsy report was released to the Odessa American following a Freedom of Information request to the Tarrant County District Attorney. The document suggested that the adoptive family, who also adopted the victim's brother Kirill, were struggling to provide proper care for Max, and the bruises were self-inflicted injuries stemming from psychological problems.

Kuzmin's adoptive father Alan said that the boy was constantly hitting his head at home, and had serious behavioral issues.
Dr. Bruce Eckel from the Cook Children's Medical Center was the first medic to examine Kuzmin after he arrived in the US, and examined him again sometime later. The doctor, who was interviewed for the autopsy report, said that during the first examination he found several scratches on the boy's body.  The second examination saw a worsening of the Kuzmin's condition, with more serious bruises and a hemorrhage on one eye.
Dr. Eckel then prescribed Kuzmin a medication used to treat schizophrenia. Laura Shatto told the authorities that Kuzmin used to claw himself, which she tried to prevent by cutting his nails short and having him wear gloves at night.

In the autopsy report, Laura Shatto also claimed that back in Russia, when they were in process of adopting Maksim, she witnessed the host mother masturbating the boy's genitals. "She said ever since, he grabs his penis and yanks on it, and seems like he is trying to pull it off and leaves bruises and scratches on it," the autopsy report said.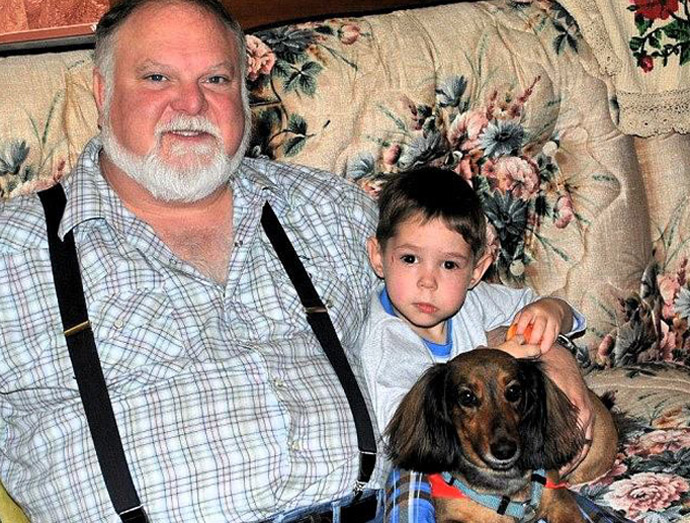 Kuzmin's adoptive father was unsure if he was sexually abused, but his wife vowed that the molestation took place. Alan Shatto maintains, however, that the boy had bruises on his genitals from the very beginning, but his host mother in Russia refused to let him be taken to Moscow for a urological examination.

Laura Shatto also claimed that Kuzmin had a history of holding his breath until he passed out. The adoptive mother said that shortly before Kuzmin's death, the boy fell out of chair after choking on a cooked carrot, knock his head against objects and again tried to claw himself.
The family states that Kuzmin stopped taking the prescribed anti-psychotic medication Risperidone three days before he died, after they learned about side effects that could have affected the boy's ability to swallow food.
Laura Shatto also described the moment when she found Max unconscious and likely already dead. According to the report, she went to the boy, grabbed him and shook vigorously while calling his name. After that, she grabbed Kuzmin by the neck with both hands even harder, until blood bubbles started coming out of his mouth, which she believed was bleeding from a previous lip injury.
Last week, US prosecutors said that no charges would be filed against the Shattos due to a lack of evidence, claiming Kuzmin's death was an accident. Russia demanded that US authorities present all available documents concerning the case, including the autopsy report and other forensic papers, as Kuzmin remained a Russian citizen after the adoption.
Since the collapse of the Soviet Union, US families have adopted an estimated 60,000 Russian children, at least 20 of whom have died. Officials in Moscow have repeatedly complained that the US justice system was issuing disproportionately mild punishments in cases involving abuse of adopted Russian children; Russian diplomats were also often prevented from offering counsel in the prosecution of such cases. 

Last week, Russian Investigative Committee Chair Aleksandr Bastrykin told reporters that his agency would use the international agency Interpol in order to level criminal charges against US citizens whose adopted Russian children die in suspicious circumstances.
Russia has recently banned US citizens from adopting Russian children with the introduction of the 'Dima Yakovlev law,' named after a Russian boy who died after his adoptive American father left him locked in a car in hot weather.

You can share this story on social media: