Russian flag hunt in Latvia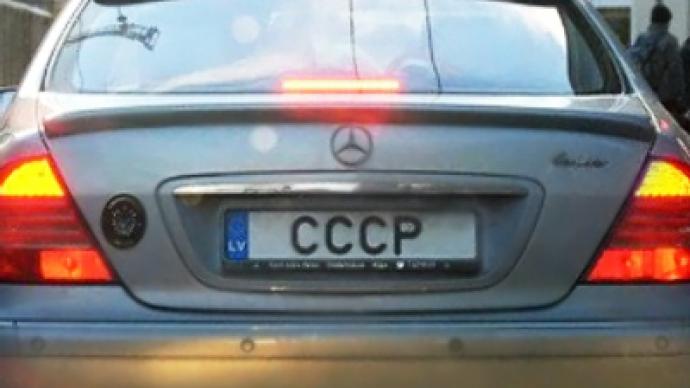 Latvian nationalists have come up with an idea to hand over photos of cars with Russian and Soviet symbols to police. They claim this data will help reveal 'the most aggressive colonists'.
Two months ahead of May 9, Victory Day (the day when there was victory over fascist Germany in 1945), the Latvian Nationalists Club has declared the "Reveal the fifth column!" campaign across the country, Gazeta.ru reports.
They have called on everyone to take photos of cars in the streets which have Russian and Soviet symbols such as flags, coat of arms etc. They want the photos to also show the number plates so
as to hand over 'evidence' to Latvia's security police.
"It is thought that within the last few months everybody has noticed there have been too many cars on the streets that are running with Russian or Soviet flags on them," says the Latvian Nationalists Club website.

"It's absolutely clear that by placing these symbols the drivers demonstrate their loyalty toward the policy, hostile to Latvia. The information that we collect may be useful for identifying the most aggressive colonists, which is especially important on the eve of May 9 buffoonery and the upcoming election," the nationalists' official note reads.

The campaign organizers say it would be a 'merely technical issue' to identify the car owners. They also claim they guarantee complete anonymity to those supplying them with information. The Club's members even promise prizes to the most active participants – books and souvenirs of the organization.

"Such a campaign is without doubt is an attempt to spread racial hatred," said Nil Ushakov, head of the "Consent Centre" political movement.
"If these people really launch their 'project', then, first, we will address the law-enforcement bodies. Second, we are ready to provide legal assistance to the people whose rights would be violated by the publication of the photos on the nationalists' site," Ushakov added.

Latvia's security police is not planning to take any action yet, and regard the nationalists' initiative purely as a PR-move.
Once a Soviet republic, Latvia is now a European Union member. Its historical legacy has left two distinct national groups: ethnic Latvians and Russians, the latter making up at least a third of the population.

Since Latvian independence, nationalism has been on the rise in the country. Meanwhile, many Russians who were born in Latvia say it's their one and only home and don't want to leave.
You can share this story on social media: