Russian cosmonaut from 2015 ISS mission resigns, 'found more exciting job'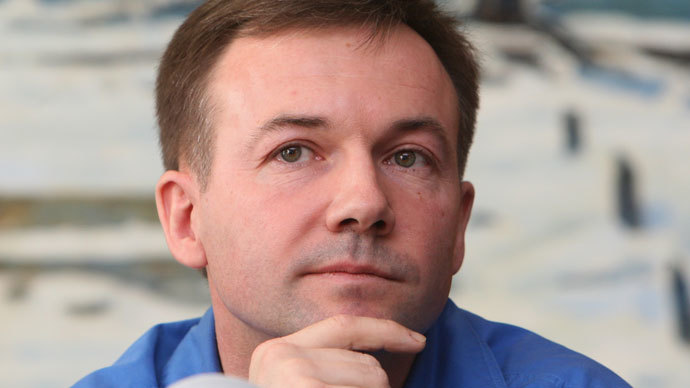 Going to space is a dream job for many, but a Russian cosmonaut has abandoned his next space mission and resigned from the space corps, trading his galactic travels for a "more exciting job" down on Earth.
Yury Lonchakov was scheduled to go to space in the 2015 International Space Station (ISS) mission on the Soyuz TMA-16M ship, alongside NASA astronaut Kjell Lindgren, Japanese Exploration Aerospace Agency (JAXA) astronaut Kimiya Yui, and Russian Federal Space Agency cosmonaut Oleg Kononenko.
"He came up to me and said that he found a more exciting job than working in outer space. And wrote his resignation letter," chief of the Cosmonaut Training Center, Sergey Krikalev, told Interfax news agency on Thursday.
"Frankly, we counted on his participation because he was not just in the unit, he was assigned to the crew," said Krikalev, adding that he does not understand the decision.
Lonchakov's retirement sent the Russian blogosphere into a frenzy, with many questioning which profession could possibly be more interesting than being an cosmonaut. 
The 48-year-old cosmonaut completed his first flight in 2001, as part of the crew of the space shuttle Endeavour STS-100 in the ISS assembly program. During his second mission in 2002, Lonchakov was a flight engineer on the Soyuz TMA-1. In 2008, the astronaut became the captain of the Soyuz TMA-13 and served as a flight engineer on the 18th ISS expedition with Michael Fink and Richard Garriott. He carried out two space walks during the flight.
The Cosmonaut Training Center stated last year that there is a program to transfer military space industry experts into civil service.  Prominent Russian cosmonaut Aleksey Leonov, who was the first man to conduct a spacewalk in 1965, said that a number of recent decisions made by authorities are leading to the destruction of Russian cosmonautics.
Leonov also pointed out the Defense Ministry's decision to eliminate a number of flight schools, highlighting a lack of professionals.
Russian media reported that astronauts have anonymously complained to journalists that they feel a serious lack of respect from the state.
According to data revealed in 2010, Russian cosmonauts can earn between US$130,000-$150,000 during six months on the International Space Station. However, their average pay when they return to earth is a much lower $2,100 per month.
You can share this story on social media: