Russia plans to bring more S-300 air systems to EU border in Belarus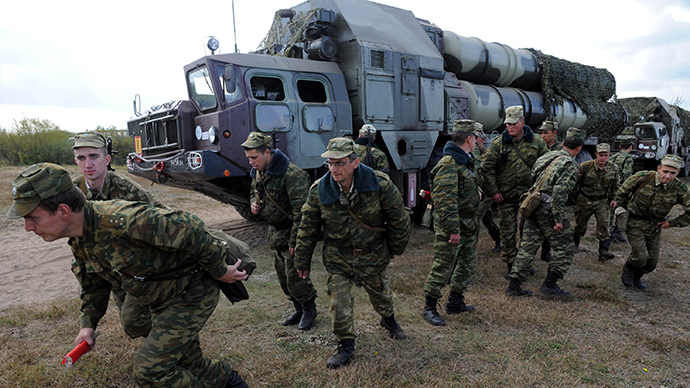 Moscow is set to supply Minsk with more S-300 complexes to strengthen the external border under a project of merging the countries' air defenses. The systems are to be deployed close to the Belarus border with NATO's Poland and Lithuania.
The Russian Defense Minister Sergey Shoigu announced plans after meeting with his Belarus counterpart, Yury Zhadobin, where they discussed development and enforcement of combat potential of the Joint Regional Air Defense system (JRAD).

"We plan to increase the capabilities of Belarus air defenses with four S-300 missile complexes," the Russian minister said on Tuesday.
With the latest S-400 air defense systems currently being delivered to Russian troops, S-300 can no longer be viewed as a cutting edge technology complexes, but the latest versions of S-300 are capable of bringing down practically any flying target, be it a UAV, cruise missile, fighter jet or even a ballistic missile warhead flying at speeds of up to 2.8 kilometers per second.
In December 2009, then-President Dmitry Medvedev signed an agreement with Belarus, ratifying the joint external border air defense of the union state. The agreement implies unification of air defenses and creation of JRAD, currently headed by Belarus Major General Oleg Dvigalev.
Within the framework of this agreement, Russia and Belarus "are finalizing" documents to expand a former Soviet air base in Lidy, some 120 kilometers from the Polish border, which will host a squadron of  Su-27SMZ fighter jets (with the latest modifications) and a certain number of assault helicopters. 
A team of Russian engineers is conducting a reconnaissance survey at the site. This comes after the Belarus President Aleksandr Lukashenko ordered the country's Defense Ministry, on August 20, to start implementing the practicalities of the air defense agreement with Moscow.
Some of the upcoming S-300 complexes are reportedly going to be deployed nearby to shield the base.
The squadron in Lidy is expected to be fully deployed in 2015, whereas the first fighter jets will arrive at the base's airfield by the end of 2013.
It is expected that in the future a united air defense will be created, consisting of Russia's closest post-Soviet allies - Belarus, Kazakhstan, and others opting to cooperate with the three countries currently closely united economically within the entity of the Customs Union. Countries like Armenia and Tajikistan have already voiced their desire to be a part of the CU.
You can share this story on social media: