Psychiatric ward fire kills one in Russia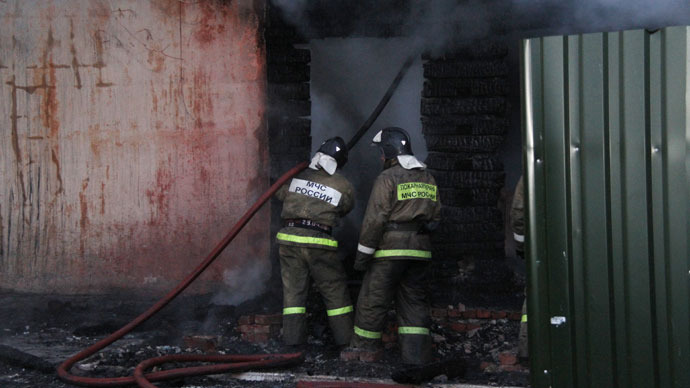 One person has been killed and another one injured after a fire erupted in a psychiatric ward in Southern Russia's Krasnodar region. It is the third incident of its kind in Russia in roughly two weeks.
Forty-two people were evacuated after the sounding of the fire alarm at 1:54 Moscow time and arrival of rescue units.
According to initial reports the fire erupted from a mattress in a patient's room. An investigation has been launched to determine the source of the fire.
"The fire at the psychiatric ward occurred at 1:54 pm Moscow time from a burning mattress," local representative from the Emergency Ministry told Interfax, adding that the fire rescue arrived at the scene of the incident "very fast" and rescue effort was organized quickly.
The fire was fully extinguished in less than a half hour without causing much damage to the building, according to reports from the scene. 
This is the third blaze to raged in Russia's psychiatric facilities in less than a month.
On May 1, a fire in a Tambov region psychiatric hospital claimed the life of a fifty-five-year-old patient, who also died from smoke suffocation. Over fifty people were evacuated. At least twelve of them were confined to their beds when the fire erupted.
The fire was liquidated within minutes after an alarm went off and rescue units arrived at the scene. "The cause of incident was the careless use of fire while smoking in bed, which led the mattress to ignite," a local Emergencies Ministry official told the press.
On April 26, 38 people were killed in a fire at a psychiatric hospital on the outskirts of Moscow that housed as many as 41 people, including medical staff. Authorities pointed to faulty electric wiring and a short circuit as the possible cause.

One nurse managed to escape the blaze, bringing one patient out of the building to safety, while another patient managed to get out on his own. The high death toll is partly being blamed on bars on the windows which the hospital installed, preventing people from escaping. Most of the bodies were found still in their beds.
Fires at medical facilities are common in Russia, with at least 18 cases in the past seven years.
Among the most notable was in 2009 in the Russian Republic of Komi, where a blaze in an old people's home in the region took the lives of 23 people. Only three were saved in the incident.
Two years earlier, a fire in the city of Tula, again in a home for the elderly, resulted in 32 victims. 247 patients, including medical staff were saved.
That same year, in 2007, another inferno in a care home claimed the lives 61 of victims. Only 35 people were saved.