Thousands of Russian convicts may go untracked if bracelet batteries die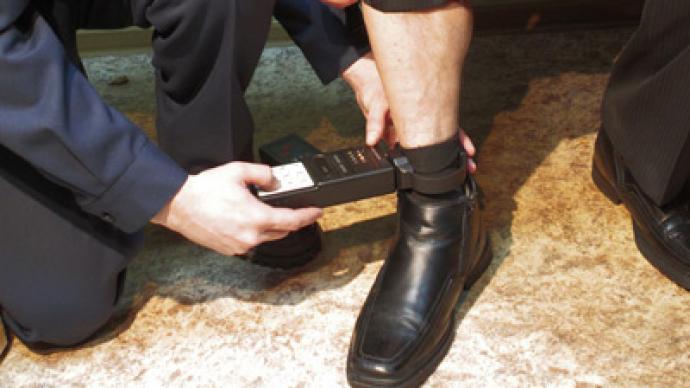 Thousands of Russians on probation for minor offenses may no longer be monitored as the batteries in their electronic bracelets will soon expire. Russia's Service for Execution of Punishment has dismissed the report, calling it a "fantasy."
­Moskovsky Komsomolets (MK) newspaper has reported that the Federal Service for Execution of Punishment (FSIN) has no way to replace the bracelets.

The bracelets were supposed to be replaced after their charge died: "The bracelet contains a lithium battery which can't be replaced. The bracelet is produced in such a way that it may work even 30 meters under water. If one tries to open the device… it becomes unfit for use. Initially, it was planned that as soon as the battery is gone, an operator gets a signal, and security forces employees come to replace the device," representatives of Meta, the company that produced the bracelets, told MK newspaper.

However, the deal fell through, and the FSIN has refused to buy 7,000 new bracelets over corruption suspicions. Placing a new order from another company would take about a year, and cost around 4 billion rubles ($133 million).

The bracelet's battery charge lasts for three years, but some were worn by more than one prisoner on probation, shortening the charge.
The FSIN declined RT's request for comment, but posted an indignant statement on its website blaming the newspaper for publishing "unconfirmed" information from "incompetent" sources.

FSIN stressed that the devices are "functioning all across Russia," and they will be able to "provide all convicted with bracelets." The group also pointed out that there are other ways to monitor offenders besides bracelets.
The corruption scandal began last summer, when it emerged that the devices were severely overpriced, each costing the taxpayer $4,000. The FSIN launched an investigation into the purchase, and found out the prices went up after the company acting as intermediary assembled and packed the devices.

"I asked why an iPad which costs about $1,000 is 'more intelligent' than the bracelets which cost over $3,000? My colleagues disputed with me saying I don't understand it," Oleg Korshunov, spokesperson for the Federal Service for Execution of Punishment  told Interfax in January.

Korshunov claimed he sent the devices to different companies, including the Interior Ministry, for an independent investigation. He also sent samples of the bracelets to different companies that estimated the cost of producing the devices.

"The businessmen said the bracelets would cost about $1,100 to $1,300 a piece," Korshunov said. "And those were the better variants – they could work with GPS and Glonass, whereas the bracelets we used could only function with GPS. That was a grave violation."
A scandal involving bracelets and bribery is heading for a criminal conclusion.

In October 2012 Russia's investigative committee launched a criminal case against two high-profile Federal Service for Execution of Punishment officials and their go-betweens. All four were arrested in December after it was revealed they failed to report overpriced jewellery, instead using this information for their own gain. They blackmailed heads of the companies that produced the bracelets, demanding some 2 mln euros.