Russian presidential vote: LIVE UPDATES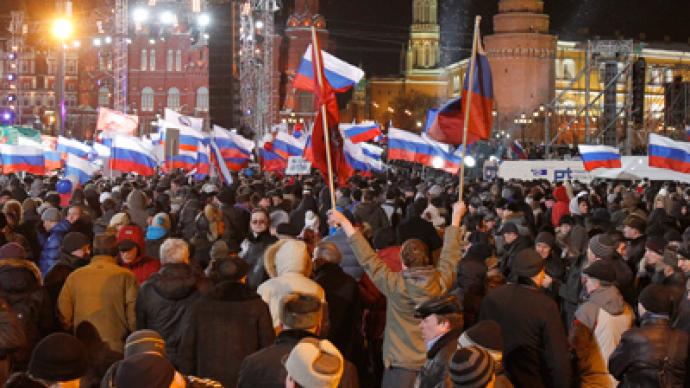 00:30 MSK We are closing LIVE UPDATES. Vote figures are still being constantly updated on our website, and you can also follow RT's LIVE coverage.00:03 MSK, March 5 With more than half of the ballots counted, Vladimir Putin leads the race with 64%.23:59 MSK  Presidential candidates Mironov and Zhirinovsky officially admit defeat.23:17 MSK 'Medvedev and Putin' trending worldwide on Twitter.22:47 MSK Vladimir Putin and Dmitry Medvedev arrive on Manezhnaya Square to address the voters.22:35 MSK 110,000 people gather at Manezhnaya Square in the heart of Moscow to hear Vladimir Putin speak.22:25 MSK After 25% of the votes have been been counted, Vladimir Putin is in 1st place with 63%, Gennady Zyuganov is in second with just over 17%, Mikhail Prokhorov and Vladimir Zhirinovsky are tied with 7.3% each and Sergey Mironov is last with 3.7%.22:05 MSK Mikhail Prohorov pulls ahead of Vladimir Zhirinovsky after 21.5% of the ballots have been counted.21:49 MSK Communist Party candidate Gennady Zyuganov refuses to acknowledge election results, claims voting was illegal.21:37 MSK Polling station shoot-up in Dagestan leaves local voters wounded.21:18 MSK Gennady Zyuganov is in second place with 17.6%, Mikhail Prokhorov and Vladimir Zhirinovsky are tied with 7.5% of the votes each and Sergey Mironov is last with just 3.7%. 21:15 MSK According to exit polls, Vladimir Putin is in the lead with over 60 percent of the votes.21:00 MSK Polling stations closed across Russia; voters awaiting exit poll data.20:12 MSK Voting in Russia's presidential election is nearing its end. Polling stations have closed across the entire country, except in the Kaliningrad region.20:01 MSK Polling stations in Moscow and St. Petersburg have closed at 20:00 local time. 19:15 MSK At 18:00 Moscow Time, 58 per cent of registered voters had cast their ballots according to the Central Election Commission.18:43 MSK Turnout in the Russian capital stood at 48 per cent at 18:00 Moscow Time.18:32 MSK Foreign observers hold press conference after touring polling stations, praising webcam monitoring installed specifically for this presidential election. 18:21 MSK Chechnya is reporting a record turnout – 94 per cent of eligible voters cast their ballots by 18:00 Moscow Time.17:42 MSK Secutiry tightened outside the Central Electoral Commission building in Moscow.17:17 MSK Police say no trace of explosives found in two of the capital's polling stations.17:09 MSK At 15:00 Moscow Time, 48 per cent of registered voters had cast their ballots – Central Election Commission.16:47 MSK An anonymous caller claims explosive devices are set to go off at two polling stations in Moscow. Search dogs and bomb squad specialists have been sent to investigate. 14:59 MSK Election monitoring servers have recorded more than 2 million hours of video from webcams. There are some 700 terabytes of footage, and that quantity will grow further as the streaming continues. At the last count, there were some 380,000 online observers using the system in real time.14:54 MSK Among those who voted in Ingushetia is the oldest resident of the southern Russian republic, 116-year-old Appas Iliev. The venerable gentleman was solemnly welcomed at the polling station, the local election commission reported.14:47 MSK Two Moscow polling stations had their boxes sealed and replaced due to an unintentional violation of election law. Voters with absentee ballots were given ballots for the municipal election, which is being held at the same time as the presidential one.14:12 MSK More than 30 per cent of Russians have voted, the Central Election Commission reports. That's 4 per cent higher than the turnout at the last presidential election at the same time.13:59 MSK Moscow Region prosecutor's office launches a probe into the shortage of absentee ballots. The head of the region's election commission blames the problem on poor distribution planning by the Central Election Commission. He says the region received 105,000 absentee ballots – 45,000 fewer than during the parliamentary poll.13:47 MSK Controversial activist group Femen stage a topless protest in Moscow. Three girls stripped at the polling station where Vladimir Putin cast his ballot shortly before. They were protesting against alleged vote-rigging.13:37 MSK Turnout in Moscow was more than 12 per cent as of mid-day, the election commission reports. Voting activity is roughly the same as it was during the 2008 presidential election.13:22 MSK European observers say they are impressed by the webcam monitoring system. "It is a good measure against falsifications. We should think about having such system in Britain," British observer Alan Richardson told Itar-Tass news agency.12:59 MSK Video streaming from several polling stations in Dagestan was disrupted. The malfunctions were  promptly fixed, the local election commission reports.
12:47 MSK Vladimir Putin cast his ballot at a polling station in central Moscow. He was accompanied by his wife Lyudmila, who also voted.12:20 MSK Central Election Commission reports an overall turnout of 15.3 per cent across Russia.12:17 MSK Moscow police are beefing up security in the city center, where several rallies are expected to take place this evening. Parking restrictions are in force in several areas. Fences and metal detectors have been erected around the squares where demos are to be held.12:14 MSK Voting wraps up in Russia's Far East. Members of election commission in Chukotka, Kamchatka and Magadan regions are counting ballots. Turnout in the three regions is reported at 76 per cent, 54 per cent and 53 per cent respectively.12:04 MSK Communist candidate Gennady Zyuganov says he voted for "smart and prosperous Russia" as he cast his ballot in the capital.
11:50 MSK Yakut police have detained a man with eight ballot papers in his possession. He claimed he wanted to test the vigilance of observers and law enforcers at the polling station. Overall, eight tip-offs out of some 6,000 received by the Election Commission hotline have been forwarded to the police so far.11:44 MSK Presidential candidate Sergey Mironov of the Fair Russia party has voted in Moscow. He talked to observers at the polling station after casting his ballot.11:27 MSK President Dmitry Medvedev and Russia's first lady, Svetlana Medvedeva, have voted in Moscow. They cast two ballots each – one for president and another for the municipal election. It took the head of state several attempts for the scanner in the polling box to read his submission.11:06 MSK Moscow police report that two people have been detained for unlawful campaigning. They were caught posting political leaflets, thus violating the embargo on campaigning which came in on the eve of election day. Police seized some 500 leaflets the pair had in their possession. One of the detainees turned out to be on the federal wanted list for alleged assault on a state official.10:47 MSK Overall turnout so far is 12.2 per cent, reports the Central Election Commission.10:40 MSK Almost 260,000 Russians voted early, the Central Election Commission says. That includes 177,350 domestic voters and 81,667 casting ballots abroad. The figure is noticeable higher than that during the 2008 presidential election when 188,421 people voted early. December's parliamentary election saw 193,815 early votes.10:18 MSK Presidential hopeful and Lib Dem leader Vladimir Zhirinovsky cast his vote in western Moscow.  He said he felt the voting booth did not provide enough privacy for a secret ballot.10:16 MSK Russian Buddhists are voting amid the holy ritual of Monlam, one of the most important prayer festivals in the Tibetan branch of the religion. The 15-day-long festival started on February 23, so lamas are casting their ballots in breaks between ceremonies.
10:01 MSK The Communist party alleges electoral violations in Orlov region. They say journalists are being barred from entering several polling stations in the region, citing local media. There has been no official comment on the allegations.09:59 MSK Russian citizens living in the Kazakh city of Baikonur and the nearby space port of the same name cast electronic ballots at the seven polling stations opened in the area. Out of 70,000 residents, some 16,200 are registered Russian voters.09:51 MSK A man has died at a polling station in Zelenograd. Preliminary reports say the 66-year-old suffered from an acute heart attack.09:26 MSK Turnout in Primorsky Krai region is reported at 40 per cent after seven hours of voting – about 9 per cent higher than during last year's parliamentary poll, the local election commission says.
09:09 MSK Voting starts in Kaliningrad region, the westernmost region of Russia, which means the election is in full swing now all across the country. The only polling stations yet to open are those at Russian embassies and consulates overseas. The first exit poll results are expected in 12 hours.09:06 MSK Out of the 1,135 polling stations in the western Tula region, 28 opened two hours early. This is to accommodate voters who work night shifts at round-the-clock factories. The region has 1,26 million registered voters.08:49 MSK Residents of the Siberian Tyva region are voting amid a state of emergency after the republic was hit by a powerful earthquake a few days ago. The region remains on high alert, with a risk of further damage from aftershocks. The danger has not stopped people from turning out at polling stations, with 16 per cent of registered voters casting their ballots with two hours of the poll opening.08:44 MSK 2,713 polling stations open in the southern Krasnodarsk region. 14 of them have been organized specifically for workers involved in the construction of the venues for the Sochi Winter Olympic Games.  Some 3,827,000 voters are registered in the region.
08:30 MSK Some 1.5 million are expected to monitor the election process via webcams installed in polling stations.  The Communications Ministry based the figure on the number of registered users on the system's web portal. The ministry says every single polling station equipped with a webcam has at least one observer.08:27 MSK Russian citizens in the sovereign republic of South Ossetia, formerly a  region of Georgia, will be able to cast their ballots at one of the 9 polling stations opened by the Russian embassy. Three more stations have been opened for Russian border guards serving in South Ossetia under a security treaty between Moscow and Tskhinval.08:16 MSK Chechen Republic opens polling stations for Sunday's vote. Local election commission reports a high number of observers and journalists monitoring the ballot. Turnout in the southern Russian republic is expected to be high.08:05 MSK Voting starts in Volgograd region, where almost 2 million Russians are registered to vote. There are 1,959 polling stations in the region, six of which are located at local factories.07:30 MSK Local electoral commissions report that voter turnout in the Zabaikalsky and Irkutsk Regions, as well as the Republics of Buryatia and Khakasia, is lower than in the 2008 presidential election. About 5 per cent of registered voters have voted so far in the Zabaikalsky Region, which is 1.5 per cent lower than the voter turnout during the first two hours of the 2008 presidential election.
07:20 MSK Six polling stations for Russian citizens are now open in Tajikistan, according to a Russian Embassy official. Two of the voting stations are in the capital Dushanbe, one in the second-largest city of Khujand, while the rest are at Russian military bases in Kulob, Qurghonteppa and Nurak.7:04 MSK Public transport costs in Kyzyl, the capital of the Tuva Republic, are to be waived. The local administration says the purpose is to make sure all voters can participate in the election.06:45 MSK A troupe of Russian pop stars arrive to the Chukotka Autonomous Region to call on the local population to take part in the presidential election.06:28 MSK Over 380,000 policemen are on duty to ensure security at voting stations, according to Deputy Interior Minister Aleksandr Gorovoy. They are assisted by over 29,000 volunteers and over 30,000 private security guards. Police will pay special attention to the republics of the North Caucasus, where over 32,000 policemen are to be deployed.06:00 MSK Voting stations have opened in West Siberia and the Urals, home to cities like Ekaterinburg, Chelyabinsk, Khanty-Mansiysk and Kurgan.
05:40 MSK Over 23 per cent of registered voters have cast their ballots in the first four hours of voting in the Kamchatka Region, the local electoral commission reports. The turnout is 7.5 per cent higher than that of same time period in the parliamentary poll held in December of last year. The commission reported no voting irregularities so far.05:28 MSK Almost half of the registered voters in the Chukotka Autonomous Region have cast their ballots in the first four hours of the election, according to the regional electoral commission. Voter turnout exceeded 50 per cent in the Chukotka and Iultin districts of the Region.05:11 MSK The Public Chamber of Russia has received its first calls from election observers, in the Republic of Sakha (Yakutia) and the Amur Region. The observers reported an orderly atmosphere at the polling stations, though they did mention a minor problem related to the installation of a webcam in Blagoveshchensk, the capital of the Amur Region. They also said there were difficulties with letting one public observers in, but that the problem had been resolved with the help of the Central Electoral Commission.05:00 MSK More major Siberian cities including Novosibirsk, Tomsk, Barnaul and Omsk, located in the timezone three hours ahead of Moscow, begin voting.04:56 MSK Presidential candidate Mikhail Prokhorov casts his ballot at a polling station in a small town in Siberia's Krasnoyarsk Region.
04:20 MSK The Khabarovsk Region's local electoral commission reports that approximately 73,196 people, or 7 per cent of the region's voters, have cast their ballots during the first two hours of the presidential election. This is 4.5 per cent lower than the turnout during the same period in Russia's last presidential election, in 2008.04:05 MSK Over 5 per cent of voters have cast their ballots during the first two hours of voting in the Jewish Autonomous Region, according to the local electoral office. That is 1 per cent lower than during the same period in Russia's last presidential election, in 2008.04:00 MSK Siberia steps up to the election at 04:00 Moscow time, with cities like Krasnoyarsk, with a population close to one million, the Republic of Khakassia's capital Abakan, and others opening their polling stations.03:40 MSK Ballots open at the Russian Embassy in Tokyo, as well as the Russian consulates in Sapporo, Niigata and Osaka. Approximately 800 Russian citizens are registered with consulates throughout Japan, although unofficial estimates put the number of Russians living there at several thousand.03:28 MSK Over 7 per cent of registered voters have cast their ballots in the first two hours of voting in the Magadan Region, the local electoral commission reports. This is 1.5 per cent more than the voter turnout during the same period in Russia's last presidential election, in 2008.
03:20 MSK Voter turnout in Chukotka after two hours of voting is almost 27 per cent, according to the local electoral commission. In the last presidential election, in 2008, 25 per cent of registered voters in Chukotka voted during the same period.03:01 MSK Ballots are open in Buryatia, a republic with 700,000 registered voters. Voting is already underway in the sparsely populated eastern areas of the country.02:20 MSK Polling stations open in the Zabaikalsky Region, where over 817,000 voters are registered. The local electoral commission says 904 of a total 955 polling stations are equipped with webcams, with 502 of them broadcasting live.02:15 MSK Voting is underway in the Sakha Republic (Yakutia), and the Amur Region. Sakha's local elections commissioner says the number of polling stations (813) is twice the amount the republic had during December's parliamentary poll. An online broadcast of the voting process will be available for 401 of the polling stations. Cameras will be recording the process at 398 other stations, albeit without a live online broadcast due to connectivity problems. Sixteen remote polling stations will have no cameras or Internet access due to technical difficulties. 01:32 MSK Yakutsk Mayor's Office says city bus prices will be reduced from 16 rubles (about 50 US cents) to 10 rubles (about 30 US cents). The election-day discount will be in effect from 08:00 to 20:00 local time.01:04 MSK: Polling stations open in the Primorye, Khabarovsk and Sakhalin regions, and the Jewish Autonomous Region at 08:00 local time.00:08 MSK The Chukotka region is one of the first to start the presidential vote. As of 8:00 local time, all 57 polling stations are now open.00:00 MSK Voting kicks off in Russia's presidential election as stations open in the country's most eastern areas including Chukotka, Magadan, and Kamchatka.
You can share this story on social media: