Medvedev calls on nation to make 'right' choice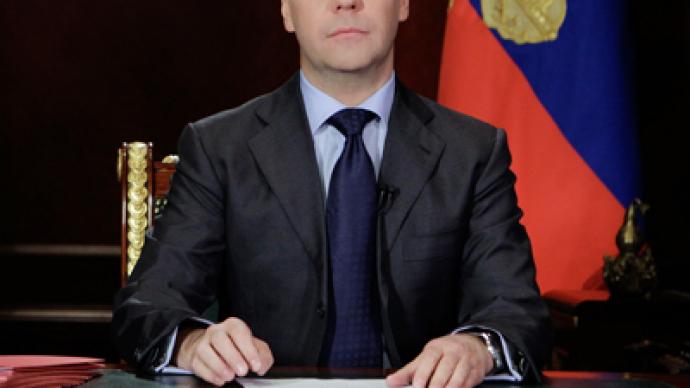 Dmitry Medvedev has urged Russians to take part in the presidential poll on March 4. He stressed that only voters can determine the country's path for years to come, adding "our future depends on each and every one of us."
In a televised address to the nation, the president noted that the current election campaign was marked with a surge in civic activity. According to Medvedev, this demonstrated that Russian society has matured and is capable of clearly formulating its demands to the government.
"This means our fellow citizens realize that our very future depends upon the forthcoming election. They are ready to assume their share of responsibility for the well-being of the nation," he said.
Medvedev believes the results of the political reform that he suggested in last year's annual address to the Federal Assembly will enable Russians to take a more active part in running the country.
He pointed out that being a president is an extremely hard and responsible job. Medvedev stressed that his successor in the Kremlin must be able to fulfill his duties effectively.
"He will need to continue building a modern economy, ensure the well-being of our people, bolster our defense capabilities, safeguard the nation's security and strengthen Russia's position in the world," he said.
Addressing voters, Medvedev stressed that it is up to them to choose the candidate worthy of their vote.
"I am convinced that you will make the right choice," he added.
Five candidates are fighting for the presidential chair in the election: Prime Minister Vladimir Putin, Communist leader Gennady Zyuganov, Liberal Democratic party head Vladimir Zhirinovsky, Sergey Mironov of the Fair Russia party and independent candidate, billionaire Mikhail Prokhorov.