Moscow sends 2 planes to pick up Russians hit by Syrian war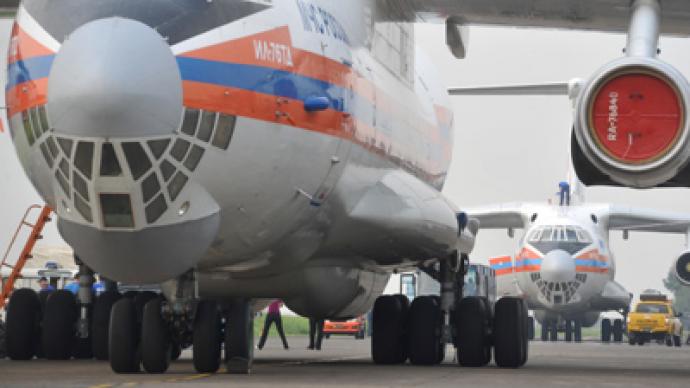 Russia's Emergencies Ministry has sent two planes to the Lebanese capital to pick up those Russians affected by the ongoing Syrian conflict. Most of about 100 Russians who wanted to leave Syria have already headed for Beirut.
76 Russian citizens have already crossed the Lebanese-Syrian border and received consular assistance. They include Russian women married to Syrians, their children, and husbands with Russian citizenship.There are 81 people leaving for Russia on Tuesday of about 100 people in total, officials said.This mission is aimed at helping those Russian citizens affected by the Syrian conflict and it has nothing to do with evacuation, the Russian embassy in Damascus stressed.Although there are regular flights between Damascus and Moscow, "not all families, especially those who had their homes destroyed, who've been left without food and shelter, have the means to get to their home country," a diplomatic source told Interfax.Two planes, an Il-76 and a Yak-42, each able to carry up to 120 passengers were dispatched for Beirut on Tuesday. The crews included medics and psychologists.Earlier media reported that Russia was considering using the navy to evacuate its citizens from Syria. This appeared to be confirmed when several warships were sent to the Mediterranean Sea. But the Foreign Ministry denied the speculation, saying the deployment was for scheduled military drills.In December a member of the National Coalition for Syrian Revolutionary and Opposition Forces, a newly formed opposition body recognized by the West, called Russian citizens in Syria 'legitimate targets.'According to Foreign Minister Sergey Lavrov there are thousands of Russian citizens living in Syria. Many of them are not registered with the consulate, mostly women and children from mixed marriages. Different officials estimate there are some 25,000-100,000 Russians living in the Arab country; 8,000 of them are on the consulate's books.Russia also has a naval base in Syria which is manned by around 50 sailors and officers. The Tartus base was founded in the 1970s during the Soviet times. Neglected in the 1990s, the base has been recently revived and now is used for repairs and refueling Russian ships in the Mediterranean.The base has remained operational despite the bloody conflict that has been raging in Syria for the last two years. However, if the lives of those at the base are put in danger the staff will be evacuated, Russian authorities said in July.
You can share this story on social media: